About Purple Parking
What do we do?
Here at Purple Parking we have been dealing with cars since 1925. So not only are we experts in excellent customer service, but we also know how to take good care of your vehicle.
Our services focus on making travel easy for our customers, from our popular Park and Rides, to our convenient Meet and Greet chauffeur services, all Purple Parking car parks are protected by the latest 24-hour security surveillance technology and we regularly update our systems and revise procedures so you can travel with the assurance that your vehicle is in safe hands.
Furthermore, Purple Parking act as a booking agent for other airport parking service providers across all major UK airports. We are trusted by all the big names to safely and securely provide our customers with top-notch airport parking including official airport car parks, and companies such as JetParks and Maple Manor.
But did we stop there? Of course not! We're proud to be able to offer our customers a huge range of airport hotels, including unbelievable value hotel and parking packages, available at all major UK airports. We partner with huge brands like Marriott, Hilton and Holiday Inn, as well as offering plenty of added extras and upgrades, such as airport lounges, so our customers can enjoy the smoothest airport experience possible. We are dedicated to helping our customers make the most of their money on all their airport essentials, and we certainly deliver on that promise!
Who are we?
Purple Parking started out as a family business in 1925, when Jack Richard Inwards opened his first garage in Ickenham, Middlesex. One of hissons, Michael Inwards, later managed the business and in 1970 introduced a chain of self-service petrol stations offering convenience foods for sale - something which is taken for granted today. The photo below is of one of the garages in Ruislip High Street taken in 1937.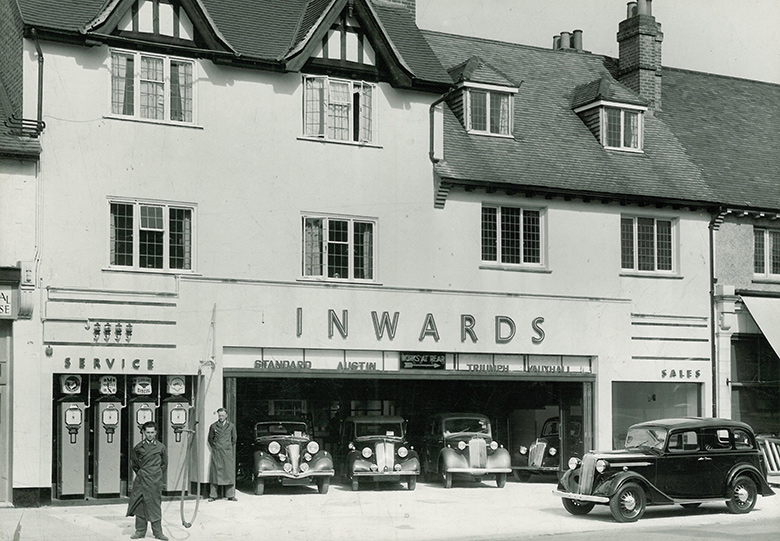 In 1987 Michael started a business called Secure Storage Ltd, which stored thousands of new cars on behalf of London Car Dealers. By 1990 the Company was storing up to 15000 vehicles on two sites in East and West London. In 1990 Michael started an airport Park and Ride service from his site in Southall known as Secure Parking Ltd for Heathrow with three buses and less than a dozen staff. In 1995 the Meet and Greet service was introduced. Soon after, with the advent of the internet, the name was changed to Purple Parking and soon after, started selling airport parking at most airports across the UK.
Nowadays, we are a large business offering fabulous deals on all your airport essentials, including airport parking with a variety of big names in parking service providers, the very best in airport hotels, a huge range of luxurious airport lounges, and now, amazing value airport transfers. In a nutshell, we are your one-stop-shop for all things airport.
However, despite our rapid expansion, Purple Parking continues to focus on personal, friendly and accessible customer service. We've come a long way since those garages in the 20s and 30s. We're proud of our history and are looking forward to our even brighter future.