Stansted Airport
Stansted Airport Parking
The best Stansted Airport parking prices from the real experts
Stansted Airport parking couldn't be easier with Purple Parking; we offer a range of services that will take care of your every need when travelling through this east-London airport (okay we know technically it's in Essex). Our Stansted car parks are conveniently located just a short bus ride from the airport and our Meet and Greet and on-site parking facilities ensure your journey through the airport is effortless and simple. All this at competitive low prices, booking with Purple Parking means you save up to 70%. See below to find out more about our services and costs.
If you are looking to make your trip even easier it might be worth considering a stay at a hotel with parking on the night before your flight to help make your holiday as relaxed as possible. With a Stansted Airport hotel with parking you can get a good night's sleep and maybe even a lie in before your flight. Take a look at our range of Stansted Airport hotels with parking to see what deals we have including room and parking at Stansted Airport.
London Stansted Airport parking
Daily London Stansted parking
from
Weekly London Stansted parking
from
Parking at Stansted from £43.99 for 1 Week
London Stansted Parking Options:
If you are looking for the cheapest Stansted Parking and don't mind being a little further from Stansted Airport then Jetparks or the official Long Stay car park are great options. Both of these secured, Stansted car parks provide free transfer buses which will have you at Stansted Airport within 15 minutes (dependant on traffic conditions). The transfer buses also run 24 hours a day so it doesn't matter when your flight is, it will still be easy to get to the airport from either of these car parks.
Would you rather your Stansted Airport parking was a bit closer to the terminal? The Mid Stay Stansted car park operates a free transfer bus with just a 7 minute travel time to the airport; grab a seat on the bus and enjoy the short ride to the airport! Alternatively you could book your car into the Short Stay car park; depending on which zone you park in at this Stansted car park the terminal is just a 1-10 minute walk away making it some of the easiest London Stansted parking.
However, if you really want to keep things simple and treat yourself to some luxury, you can get your holiday from Stansted Airport off to a fabulous and convenient start with the affordable Meet and Greet Parking Stansted. This Stansted car parking option allows you to drive to the airport where a professional driver will park your car for you; no need for you to hunt down a parking space.
Airport Parking Services
Purple Parking acts as a booking agent for the airport parking services listed below. As well as constantly reviewing our pricing to make sure you get the best deal, we also carry out stringent checks to ensure that the service provided is of the highest standard.
All our services at Stansted Airport offer great value for money and make travelling easier. We're a real company with on-the-ground experts, so you know you're in safe hands whichever option you decide is best for you.
Meet and Greet Parking
With Meet and Greet you drive to Stansted Airport and are met by your own chauffeur. The chauffeur will then drive your car to a secure car park at the airport or located nearby, where it will stay for the duration of your trip. When you return from your trip, you simply call the car park as soon as possible after landing and a chauffeur will be waiting to hand your vehicle back to you once you have cleared the airport terminal.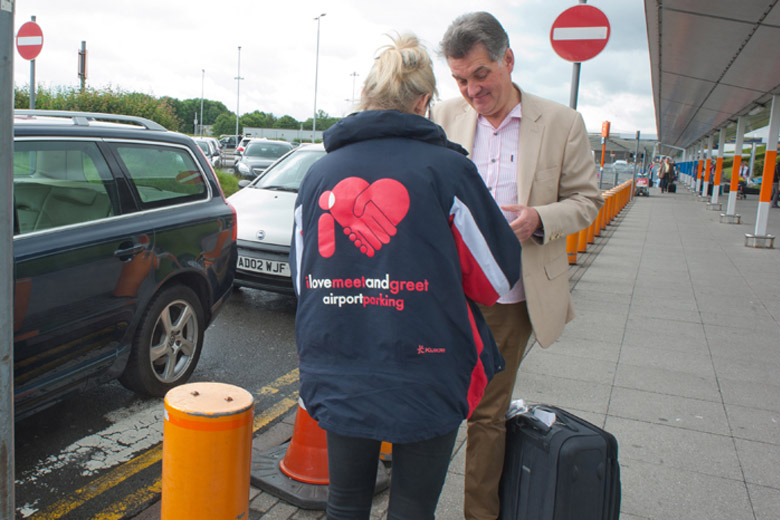 At Stansted Airport, Purple Parking offers Meet and Greet services operated by:
Stansted Official Meet and Greet
Park and Ride
With Park and Ride it's easy - simply drive yourself to your chosen car park located close to the airport. Once you have checked in, load your luggage on to the courtesy transfer bus, then sit back and relax whilst you are driven the short distance (5-15 minutes depending on the service you choose) to the airport terminal. On your return, the courtesy bus will take you straight back to the car park and your car which will be ready for you to collect.
Our Park and Ride services are operated by:
Stansted Long Stay Parking
Stansted Short Stay Parking
Stansted Mid Stay Parking
JetParks