Liverpool Airport Hotels
Liverpool Airport Hotels
Liverpool Airport Hotels
Liverpool Airport Hotels
Grab your Liverpool Airport Hotel from as Little as £56 Per Night
Wherever in the world you're flying to, you can get your holiday started early with a stay in one of our fantastic Liverpool Airport hotels. You can even save up to 70% with our exclusive Liverpool hotel offers when you book with us.
So whether you're after 3-star convenience with parking included, or a 4-star treat located close to the airport, there's something for everyone. Make sure to check out our great value Liverpool airport hotel and parking package deals too!
Inc 1 week's parking
from
Hotels at Liverpool Airport
All information is correct at the time of writing. For the latest information please check our availability page by entering your dates into the search tool.
---
Liverpool Airport Hotels with Parking
Save time and money on your Liverpool Airport essentials with one of our exclusive Liverpool Airport hotel and parking packages. All you have to do is turn up to your chosen airport hotel the night before your departure, and get into that holiday mood early! Read more about our favourite Liverpool Airport hotel and parking packages.
Hampton by Hilton with Long Stay Parking - from £92.00 inc. 1 week parking
Hotel Rating: ★★★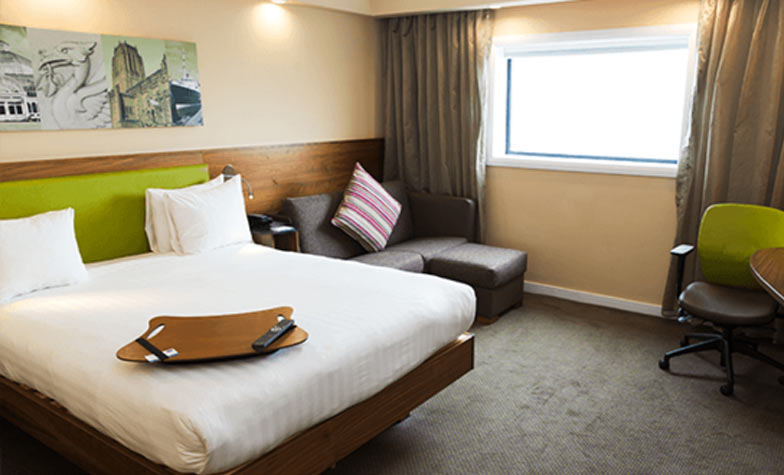 Distance: Connected to the terminal
More Info: Nothing is more convenient than the Hampton by Hilton at Liverpool Airport - it's less than 100 metres from the entrance! This is a great choice for families, regular travellers, and those who don't fancy catching a transfer bus in the early hours of the morning.
The interior decor is bright and pretty, and the hotel has an overall vibrant atmosphere with a handy gym and even a library too! This hotel is a nod to everything The Beatles - look out for the life-sized image of the band in reception.
The rooms at the Hampton by Hilton are spacious and come tastefully decorated in a contemporary style. Your stay includes a flat-screen TV, free WiFi, hairdryer, laptop safe, coffee machine and iron & ironing board. WiFi is free throughout the hotel and in your room too. If you fancy a drink, The Hub Bar is the place to head for light bites, meals and drinks, open from 4.00am to midnight everyday. In the morning you can grab your free breakfast buffet, before making the short walk to the Liverpool Airport terminal. Bliss!
With this Liverpool Airport hotel and parking package, head to the Long Stay car park and make your leisurely way to the airport via a 5 minute stroll. This offers the smoothest of all Liverpool hotel and parking packages from start to finish.
Crowne Plaza with parking at Long Stay - from £89.00 inc. 1 week parking
Hotel Rating: ★★★★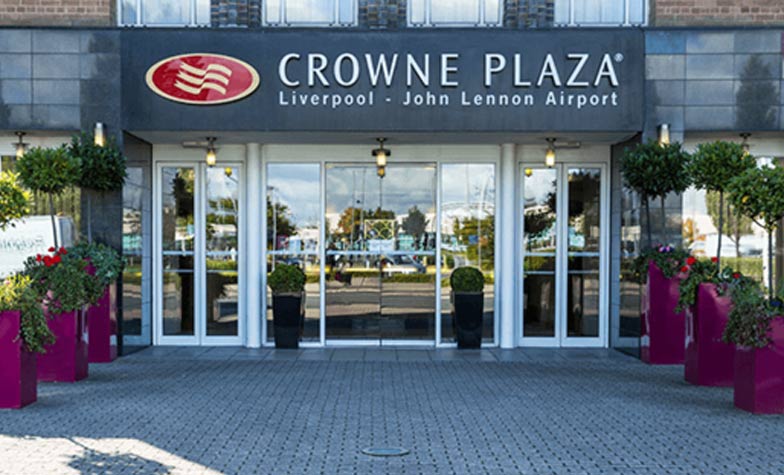 Distance: 1 mile
More Info: An elegant 4-star hotel, the Crowne Plaza is located in a stunning Grade II listed building which has been revamped for you to enjoy a luxurious stay. If you're a fan of The Beatles, then this is the perfect place to stay - this is where they stepped off their plane during the '60s to crowds of adoring fans. There are even Beatles inspired food and drinks too! An impressive David Lloyd gym can be found inside the repurposed airport hangar. There's also a selection of beauty and hair treatments available if a bit of pre-flight pampering is what you're craving.
The rooms provide ample space and come beautifully decorated in an elegant art deco style. Rooms include: a TV, free WiFi and tea and coffee making facilities. The Starways Restaurant offers a 1930s theme and a vintage dining experience. A generous breakfast is also served here every morning.
With this Liverpool Airport hotel and parking package, you need to park overnight at the hotel for free during your stay. On the day you fly, drive to Long Stay's car park (all the directions will be in your booking email), park your car, and then it's just a 5 minute walk from there to the terminal.
---
Cheap Hotels at Liverpool Airport
Staying in a hotel at Liverpool Airport saves you both money and time with our fantastically cheap deals on airport hotels and parking packages. Say goodbye to the worry of missing your flight and getting stuck in traffic! Here's our top 3 cheapest Liverpool Airport hotels.
Our Top 3 cheapest Liverpool Airport hotels:
Village Hotel with Parking at The Hotel - from £55.00 inc. 1 week parking
Hotel Rating: ★★★★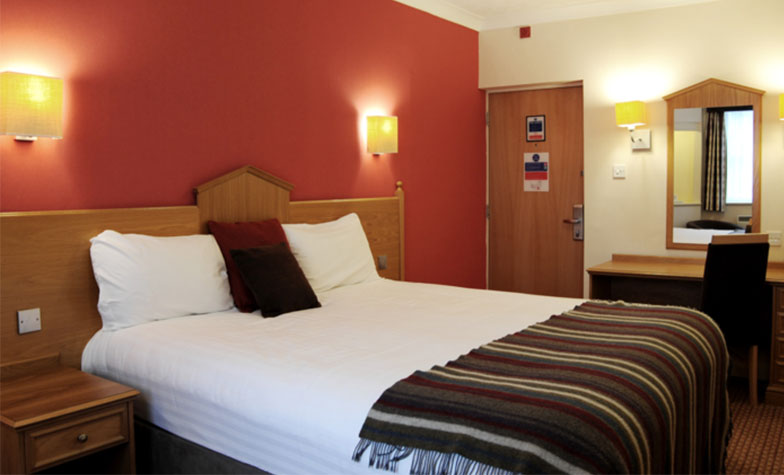 Distance: 4.9 miles from Liverpool Airport.
Transfers: Take 10 minutes. Taxis cost £15.00 each way
More Info: Start your holiday early with a stay at the Village Urban hotel. Nestled 20 minutes away in the quiet suburb of Whiston, this modern 3-star even has its own health club with a heated pool, as well as two lovely restaurants. This is the perfect place to escape to from the hubbub of Liverpool Airport.
Rooms at the Village Hotel are basic but stylish, including a TV, tea & coffee making facilities and WiFi. The Village Grill serves up classic dishes with a contemporary twist - such as pasta, steak and seafood. You can also treat yourself to the hearty breakfast buffet in the morning for £10.00. The Village Pub has sports bar vibes with a friendly atmosphere and a large TV. On the menu are pub favourites such as pizza, sandwiches and burgers.
With this package, you leave your car at the hotel for the entire duration of your trip. Speak to a member of staff at reception to book your transfers to the airport.
Premier Inn with Long Stay Parking - From £60.00
Hotel Rating: ★★★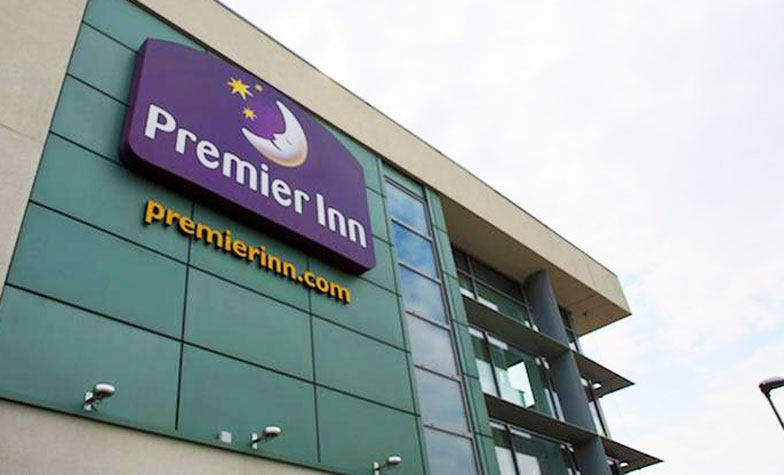 Distance: Connected to the airport
Transfers: Are not needed as the car park is a 5 minute walk from the terminal!
More Info: The Premier Inn offers great value at an even greater price tag. The hotel was recently built, and is known for being extremely safe and welcoming. Staff are very friendly too. Considering this is a budget hotel, the Premier Inn at Liverpool Airport has exciting new facilities that will ensure you have a comfortable stay. Rooms are big, comfortable and are decorated in a tasteful style. Room facilities include a TV, tea & coffee and blackout curtains to help you drift off. WiFi is free (but please note that the maximum data use is 1GB).
The Thyme Restaurant is a bar and grill with a service similar to that of a local family pub, serving hearty British dishes. There's also a special children's menu too. If you're after a spot of breakfast in the morning, the Premier Inn breakfast is nothing short of big - there's sausages, bacon, eggs, pastries, juices, tea and unlimited Costa coffee. What's even better - kids eat free (up to two) with each paying adult!
With this Liverpool Airport hotel and parking package, you'll need to head to the Long Stay car park, which is a short 5 minute stroll away from the terminal and hotel.
Best Western Everglades with Parking at the Hotel - from £69.00 inc. 1 week parking
Hotel Rating: ★★★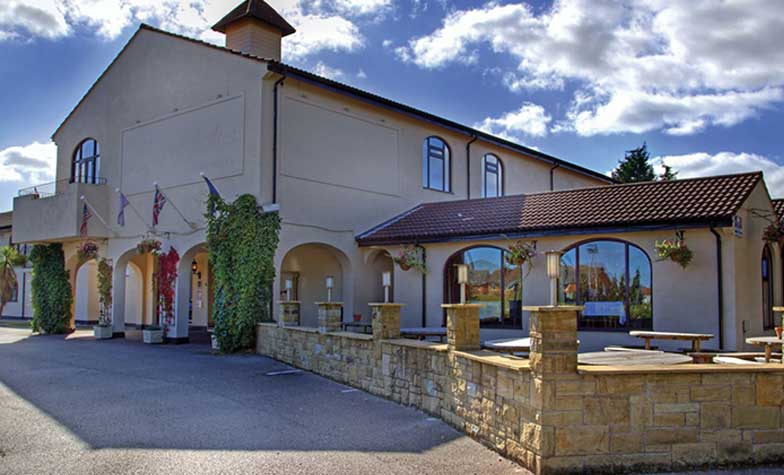 Distance: 7 miles from Liverpool Airport
Transfers: Are by taxi and take 15 minutes, costing around £15.00 each way
More Info: Unwind and relax at the Best Western Everglades, which is only 15 minutes from the Liverpool Airport terminal. Staff are renowned for being helpful and friendly, and the on-site Keys Restaurant offers laid back dining with a range of delicious dishes. This hotel is one of our best value Liverpool Airport Hotels, with all the things you'd expect from a familiar hotel chain.
The Everglades' rooms are furnished with all the amenities you need, including a TV, free WiFi and a work desk for you to get any last minute work done. The Keys Restaurant dishes up meals from from table d'hote and a la carte menus - there's even a carvery on a Sunday! There's also a hotel bar where you can relax with your favourite drink in hand. If you fancy it, you can choose to have a buffet breakfast before you fly, which is only £10.00.
At the time of writing, the room only and with parking prices for this hotel are exactly the same - so you're getting your parking for free! This parking package offers parking at the hotel. Your car will stay at the Everglades for the duration of your trip away. Please speak to a member of the team at reception to get your airport transfers booked.
---
Liverpool Airport Parking Services
Interested in booking your Liverpool Airport hotel with parking? Find out more about the different types of parking available, so you can find your perfect match and park at Liverpool Airport like a pro:
Parking at the hotel: Exactly what it says on the tin - head to your chosen hotel, park up, and then don't give your vehicle a second thought. Your car will stay exactly where it is until you return to collect it after your trip. If your hotel is located away from Liverpool Airport, a member of staff can help you to arrange your transfers. This is popular amongst travellers because it is so convenient - no need to move your car in the morning.
Park & Ride: Great for when you're on a budget, the park and ride will get you to the airport in a few minutes, and is much cheaper than getting a private taxi. You'll either need to park overnight at your chosen hotel and move your car in the morning, or head to the car park first and make your way to your hotel. Check the details in your booking confirmation so you know exactly what to expect.
Meet & Greet: Our Meet and Greet packages are perfect for those looking for a taste of the VIP life. A chauffeur will come and collect your vehicle and park it in a secured car park, leaving you free to head into check-in.
Airport parking packages vary depending on the hotel - we can even offer different parking packages with each Liverpool hotel. To find out more, make a search today, where you'll be able to find the best prices, deals and packages available for your chosen dates.
---
Liverpool Airport Hotels with Parking FAQs
What is the Nearest Hotel to Liverpool Airport?
There are two hotels within walking distance of the airport; the Travelodge and the Hampton by Hilton, with the Hampton based directly opposite the terminal building.
How Do I Book a Liverpool Airport Hotel with Parking?
Simply select whether you'd like your hotel room before departure or on your return in the search engine, pop in your dates and hit 'get my quote'. You'll be shown all the great value hotel and parking packages we have available at Liverpool Airport.
Where is the Hampton Hotel near Liverpool Airport?
The Hampton by Hilton is only a few moments walk from Liverpool Airport, and is just over the road from the terminal.
What is the Cheapest Liverpool Airport Hotel?
The hotel offering the cheapest room only stays is the Crowne Plaza, with one night starting from £56, and the cheapest hotel and parking package at £55 is offered by the Premier Inn.
Can I Cancel my Liverpool Airport Hotel Booking?
It is possible to cancel if you selected a flexible package, and you do so prior to 23:59 the day before your booking starts. Get in touch with us to get the refund process underway by hitting the 'contact us' link at the bottom of the page.
Do any Liverpool Airport Hotels Include Breakfast?
The Hampton by Hilton offers a free breakfast included with every booking.
Airport Transfers
We offer a huge range of options - we're talking 1000s and 1000s of deals in around 4000 of the world's most popular destinations. Choose from shared shuttles if you're looking for the best prices for transport, speedy shuttles if you like to balance convenience with top value, private vehicles that work just like a taxi without needing to worry about the metre ticking up, and larger transport options such as minibuses and coaches for bigger groups.
Book Airport Transfers
---
Sign up and Save
We don't like sending you spam, so we promise that you'll only get news about our latest and greatest deals! If you sign up, you'll stay up to date with all our latest and greatest Liverpool Airport Hotel offers.
Get exclusive offers.