Manchester
Manchester Airport Parking
Compare all the best parking at Manchester Airport with up to 80% off
Save money and know your car is in safe hands; book with a company who only sells trusted, secured Manchester Airport parking. Compare Purple Parking deals on top value park and rides and cheap, official MAN parking and reserve your space today.
Save BIG with the Cheapest Manchester Airport parking prices
Purple Parking offers you up to 80% off versus the cost of parking at Manchester Airport if you paid at the car park on the day. We also ensure our online, adcance rates are never beaten. Have a look at the table below to compare the nearest and best parking options, and see exactly how much you could save when you book with Purple Parking.
Daily Manchester parking
from
Weekly Manchester parking
from
You can choose to park at Manchester Airport in one of the official Airport Multi-Storey car parks located at each of the terminals, where you can walk to check-in, or use onsite Park & Rides such as the airport Mid Stay car park or, equally close and convenient are services run by APH and JetParks. These are just a few minutes away on the shuttle bus - typically 5-10 minustes, varying slightly depending which terminal you depart from.
Cheap Manchester Airport Parking from £42.01 for 1 Week
* Prices are correct at the time of writing and subject to change throughout the year. Week's parking price based on eight days parking.
PLEASE NOTE: Long Stay parking at Manchester Airport is NOT available for the foreseeable future. Instead, we recommend opting for Meet & Greet, JetParks 1, or Mid Stay T1 & T3.
Purple Parking acts as a booking agent for a variety of airport parking operators. As well as constantly reviewing our pricing to make sure you get the best deal, we also carry out stringent checks to ensure that the service provided meets customer expectations. All our services at Manchester Airport offer great value for money and make travelling easier; if you know which terminal you are flying from you can find the best car parks for each terminal here:
Short Stay parking at Manchester Airport
Drop-off: If you need pull-up to drop-off a passenger, there is a free drop-off area outside the terminal building at departures level. A free shuttle bus runs from here to the terminals. If you want to drop-off directly outside your departure terminal, you can do this for a charge of £3 for 5 minutes.
Pick-up: If you are collecting someone at arrivals, you may want to park for a little longer. The Multi-Storey car parks provide Short Stay parking at all 3 terminals. You can walk to/from the terminals from here. Below you can see an example of the standard pricing for the official Manchester Airport Multi Storey Parking:
Manchester Airport Multi Storey Car Park

Time at Car Park
Price
Up to 30 mins
£4.00
Up to 1 hour
£6.50
Up to 2 hours
£9.50
Up to 4 hours (Not applicable for T3 Arrivals)
£18.00
Up to 24 hours (Not applicable for T3 Arrivals)
£40.00
Subsequent days, or partial days (Not applicable for T3 Arrivals)
£40.00 per day
Prices correct at the time of writing.
Meet and Greet at Manchester Airport
With Meet and Greet you drive directly to your terminal in Manchester Airport and are met by your own chauffeur. You won't even need to park - your chauffeur will drive your car to a secure car park at the airport or located nearby, where it will stay for the duration of your trip. Then you're free to walk straight to your check-in desk. When you return from your trip, you simply call the car park as soon as possible after landing and a chauffeur will be waiting with your vehicle, free for you to head home straight from the arrivals terminal.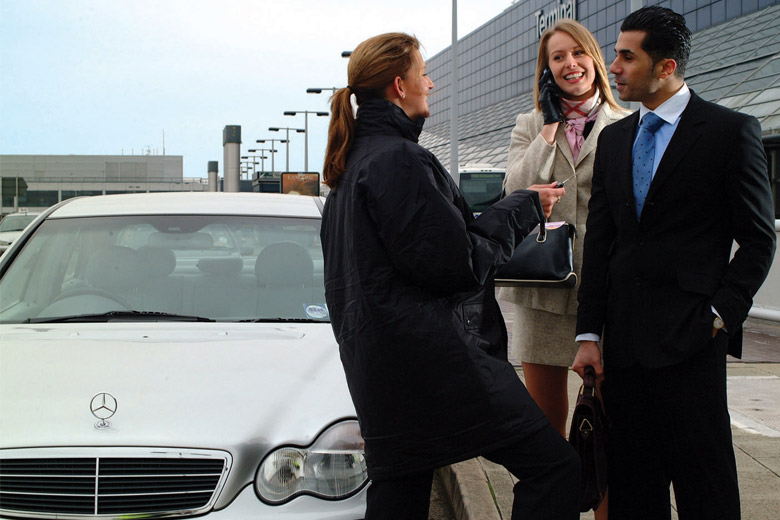 At Manchester Airport, Purple Parking offers Meet and Greet services operated by:
Manchester Meet and Greet
Manchester Meet and Greet Plus
Manchester Hotels and Parking Packages
If you are looking to make your trip even easier it might be worth considering an airport hotel with parking - stay the night before your flight to minimise hassle and avoid flying after a long drive. With a Manchester Airport hotel with parking you can get a good night's sleep and you're car will be parked securely while you're away. Take a look at our range of Manchester Airport hotels with parking.
Park and Ride at Manchester Airport
Our Park and Ride services for Manchester Airport are either at the airport or just a few miles away. Simply drive yourself to your chosen car park, check in, load your luggage on to the free transfer bus, then sit back and relax whilst you are driven the short distance to the airport terminal. On your return, the transfer bus will take you straight back to the car park and your car which will be ready for you to collect.
At Manchester Airport, Purple Parking offers Park and Ride services operated by:
APH
Manchester Airport Short Stay
Manchester Airport Multi-Storey 1
Manchester Airport Multi-Storey 2
Manchester Airport Multi-Storey 3
Manchester JetParks 1
Manchester JetParks 2
Manchester JetParks 3
Manchester JetParks Ringway
Manchester Long Stay T1 & T3
Manchester Long Stay Terminal 2
*Prices vary depending on availability and time of year, so actual percentage savings may be lower or higher as displayed here.
Manchester Airport Parking FAQs
Can I Turn up and Park at Manchester Airport?
It is possible to pay-on-the day at the Manchester Short Stay car park. However, it is often significantly cheaper to pre-book your space in advance.
Can I Cancel my Manchester Airport Parking?
It is possible to cancel your booking, up until the night before it's due to start, for free.
How do I Save 80% on my Manchester Airport Parking?
By booking with Purple Parking! We work closely with service providers to bring you the very best rates, meaning you can save heaps by booking in advance.
Is there a Height Restriction at Manchester Airport?
Height restrictions vary depending on your chosen car park. Check the details of your chosen service before you book, as larger than normal vehicles may not be accepted.
Is Blue Badge Parking Free at Manchester Airport?
No, Blue Badge parking is not free at Manchester Airport. However, plenty of car parks offer facilities to cater to a wide variety of requirements, so make sure you check the car park's details ahead of booking.
Can I Amend my Manchester Airport Parking Booking?
It is sometimes possible to amend the details of your booking. Please contact Purple Parking by using the 'contact us' link at the bottom of the page.
What Happens if I Arrive Earlier or Later than Booked?
Most car parks are prepared to accommodate you in the event of an early arrival. If you are going to be late collecting your car, please try and call the car park to let them know as soon as you can. Any late return fees are at the car park's discretion.
Can I Book a Manchester Airport Hotel and Parking?
Absolutely! Select 'airport hotels with parking' in the search engine to the left, search your dates, and browse our range of fantastic value Manchester Airport hotel and parking packages.
Is it Free to Drop Off at Manchester Airport?
There is a free drop off area located a few minutes away from the airport. Catch the airport shuttle to your terminal. To drop off directly outside your terminal, there is a £3.00 for stays of up to 5 minutes, and £4.00 for stays of up to 10 minutes.
Is there a Charge for Picking up at Manchester Airport?
Yes, there is currently no free pick up facility available at Manchester Airport. We recommend heading to the multi storey at your terminal for the most convenient pick up parking, with prices starting from £4.00 for 30 minutes parking.
Manchester
Manchester Airport Parking