London Heathrow
Heathrow Airport Parking
The best Heathrow parking prices from the experts!
Purple Parking offers a range of secured parking options at Heathrow, so you can find the service that best matches your needs. Heathrow Airport is easily accessible by car. It is located 14 miles west of Central London off either the M4 or the M25. Terminals 1 - 3 are reached from Junction 4 of the M4, while terminal 4 and 5 are reached from Junction 14 of the M25. We can happily recommend the Purple Parking Park and Ride car park at Heathrow Airport as one of our cheapest Heathrow car parks so you can save some money to spend while you're away.
How much does it cost to park at Heathrow Airport?
Whatever your priorities for parking at London's Heathrow, we've got you covered; compare our top 5 Heathrow Airport parking options in the table below! With Heathrow Parking from as little as £5.85 per day, as well as top Meet & Greet choices, we make parking at Heathrow easy and affordable.
We offer airport car parks at each of the Heathrow Airport Terminals so wherever you are flying from there will be a parking solution to suit you.
Heathrow Airport Parking

LHR Car Parks
On the day price*
Pre-book saving*
Purple Parking Heathrow Park & Ride
£110.95
£72.00
Maple Parking Meet & Greet
£104.99
£30.00
NCP Flightpath T2 + 3
£49.99
£20.74
Purple Parking Meet and Greet
£121.00
£35.00
Blue Circle Parking Heathrow Meet & Greet
£99.00
£31.50
Please note: these prices were live at the time of writing for 5 days' parking, but might change throughout the year according to availability and season.
The price you pay for Heathrow parking depends on the type of parking you choose, availability and time of year. By booking in advance you can take advantage of online-only prices which are cheaper than turning up on the day.
Let go of your worries, knowing that amending or cancelling your booking is a breeze should your travel plans change.
For more info, please visit our FREE Cancellation page.
Compare Top Heathrow Airport Parking Deals
Whatever your airport parking needs we have a fantastic range of deals to suit you, so you can park your car in confidence and enjoy a hassle-free experience. From cheap Park & Ride deals to feeling like a VIP with on-site valet parking. Relax in the knowledge that you'll recieve reliable service from trusted providers.
Enjoy cheaper parking at Heathrow just £46.79 for 1 Week!
All the deals that are provided below are either for parking specifically at Heathrow's Terminal 2, 3, 4 or 5, or are available at all Heathrow Terminals.
London Heathrow Airport parking
Daily London Heathrow parking
from
Weekly London Heathrow parking
from
LHR Car Park
£ p/d*
£ p/w*
0.9 miles
8-12 minutes
£5.85
£46.79
1.7 miles
15 minutes
£6.13
£49.00
1.5 miles
10-12 minutes
£6.87
£54.95
1.5 miles
15 minutes
£6.87
£54.95
On-airport
5-20 minutes
£7.37
£58.99
4.6 miles
10-20 minutes
£7.74
£61.95
1 mile
7-10 minute walk
£7.94
£63.50
1 mile
7-10 minute walk
£8.38
£67.00
1.5 miles
10-15 minutes
£10.49
£83.95
On-airport
Not required
£10.62
£84.99
On-airport
Not required
£10.63
£85.00
On-airport
Not required
£10.70
£85.61
On-airport
Not required
£11.74
£93.90
On-airport
Not required
£11.75
£94.00
1.5 miles
5-20 minutes
£13.24
£105.95
On-airport
Not required
£16.13
£129.00
On-airport
Not required
£16.13
£129.00
On-airport
2 minute walk
£39.00
£312.00
All prices are guide prices. For live prices and availability please enter your dates on the booking search bar.
Additional Parking Deals at London's Heathrow Airport
If you're looking for a peaceful night's sleep, without the early morning drive to the airport, then check out our Heathrow Airport Hotels with parking deals and enjoy a refreshing overnight stay before your adventure begins.
Continue the relaxation and book a Heathrow Airport Lounge Pass. The airport lounges at Heathrow provide an excellent space for you to escape the hustle and bustle of the busy terminal. At Purple Parking we pride ourselves on providing competitive deals that enable you to get everything you need for the ideal holiday!
Choosing your parking at Heathrow Airport
We've got tons of options to choose from for your parking at Heathrow to suit your trip. From ultra budget-friendly choices like easyHotel parking to a spot of luxury with our Meet and Greet parking, whatever your goals we can ensure a stress-free journey over to check-in. Have a browse below to find out more about our cheapest Heathrow Airport parking options. You'll always save when you book ahead of time, so take advantage of pre-booking savings to be confident you're getting a great deal.
To choose the best London Heathrow parking for you, first check which terminal you're flying from. Next, decide which type of parking suits you best; luxurious meet and greet, a car park at the Terminal or a handy park and ride. Finally, search for your dates to see our latest deals.
Heathrow Parking Terminal 2
We've got a variety of secured car parks at Terminal 2 including Purple Parking's own Multi-Storey Car Park - the closest off-airport parking to Heathrow - and NCP Flightpath which only serves terminals 2 & 3 and is less than a mile from the airport. You'll also find a selection of Meet & Greet options if you're looking for a more VIP start to your holiday.
Heathrow Parking Terminal 3
As Terminal 3 at Heathrow is connected to Terminal 2 you'll find the same range of excellent car parks including Purple Parking at the Multi-Storey, Purple Parking Meet & Greet, and the NCP Flightpath car park.
Heathrow Parking Terminal 4
One of the easiest ways to park at Terminal 4 at Heathrow Airport is in the Purple Parking Multi-Storey car park, however, you will need to catch the free transfer bus to Terminal 2 and then use the free Heathrow Express shuttle to get to Terminal 4. This can take up to 55 minutes so please factor this into your travel plans. Alternatively you can book with one of the Meet & Greet providers who will meet you at Terminal 4 and park your car for you while you head to departures.
Heathrow Parking Terminal 5
If you are travelling from Terminal 5 you'll be able to park with Purple Parking in the Multi-Storey car park with just a 10-15 minute transfer to the terminal, or treat yourself to the VIP lifestyle with a Meet & Greet or valet package.
London Heathrow Parking Services
Our services at Heathrow Airport offer great value for money and make travelling easier. We're an established company with on-the-ground experts, so you know you're in safe hands with whichever parking option you decide is best for you.
Meet and Greet
Our Meet and Greet service means that you can get yourself and your luggage directly to the entrance of the terminal, without the additional hassle of a transfer. You just drive yourself to whichever Heathrow Airport terminal you are flying from, where you will be met by our Handover Captain from Purple Parking. A driver will collect your vehicle and take it to our secure car park nearby, where it will stay for the duration of your trip. When you return, our Handover Captain will be waiting to hand your vehicle back to you once you have cleared the airport terminal.
But having a taste of VIP travel doesn't have to cost the earth! Prices for Heathrow Meet and Greet Parking start from as little as £84.99 for 8 days parking. Meet and Greet parking is easy-peasy, all you have to do is drive to the Short Stay car park of the terminal you're flying from where you'll be met by your very own chauffeur who will park your car for you whilst you go to check-in! Find out our best cheap Meet and Greet Heathrow deals!
Park and Ride
With Park and Ride, simply drive yourself to your chosen car park (either Purple Parking Long Stay or Purple Parking Business) located close to Heathrow Airport. Once you have checked in, load your luggage on to the courtesy transfer bus, then sit back and relax whilst you are driven the short distance to the airport terminal. On your return, the courtesy bus will take you straight back to the car park and your car which will be ready for you to collect.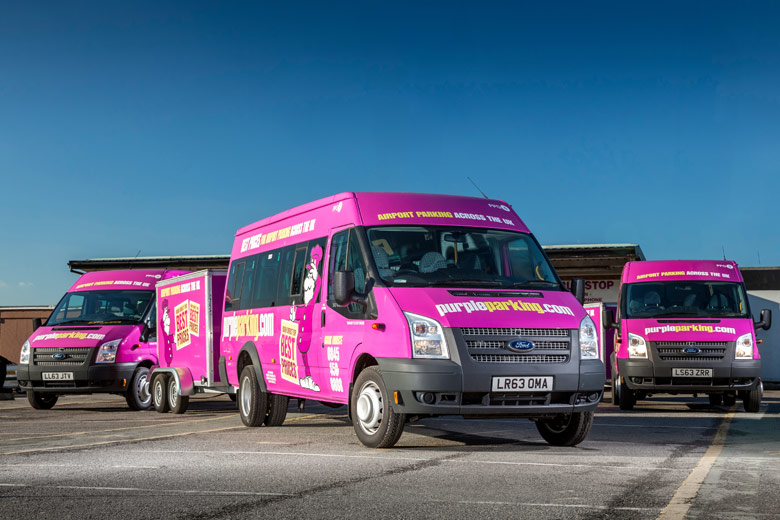 Park and Ride Premium
The Park and Ride Premium service is an economic combination of the Meet and Greet and Park and Ride services, giving you the benefit of hitting the road home as soon as possible after landing. This service is operated by Purple Parking Long Stay Plus and Purple Parking Business Plus. For your outbound journey, simply drive yourself to your chosen car park which is located close to the airport. Once you have checked in, load your luggage on to the courtesy transfer bus, then sit back and relax while you are driven the short distance to the airport terminal. When you return, our Handover Captain will be waiting to hand your vehicle back to you at the airport, once you have cleared the airport terminal.
Heathrow Parking FAQs
Can I cancel my Heathrow Parking?
Yes, there is Free Cancellation available. Please check the terms and conditions.
Where is the best place to park at Heathrow?
For cheap Heathrow parking, we'd recommend a Park and Ride service such as Purple Parking and NCP Flightpath. Both offer fuss-free procedures and easy transfers. For speed and convenience, the best place to park would be at a Meet and Greet car park such as Maple Parking or Purple Parking.
How long can you stay in the Short Stay car park at Heathrow?
Short Stay parking at Heathrow is recommended for stays up to 5 hours, but you can of course stay for up to 24 hours or more, but this is very costly. Please see the above table for the hourly Short Stay tariffs.
Can I leave my car at the airport for 2 weeks?
Yes, you can leave your car at the airport in a long term car park for 2 weeks. For longer stays like this we'd recommend opting for an off-airport car park as it's likely to work out slightly cheaper.
How much is it to park your car at Heathrow?
Heathrow parking prices will vary depending on the type of package and the time of year. When you pre-book with Purple Parking it can cost as little as £46.79 to park your car at Heathrow for 8 days.
Is my Heathrow Parking Booking Amendable?
Yes, it is possible to amend your booking details. You can change dates or Carpark in a few clicks anytime up to the arrival time on the booking. There is no fee for this, you will just have to pay the extra if the new price is higher. We will refund your card if the price is lower.
How Can I Save Money on my Heathrow Airport Parking?
You can access the very best rates on airport parking when you book with us. We work hard to secure amazing deals with our suppliers, so you can save up to 70% more vs on the day prices.
Can I Pay on the Day at Heathrow?
Yes, you can pay at the car park on the day of your parking. However, this is usually significantly more expensive than booking in advance, and we don't recommend it.
Is parking free for Blue Badge holders at Heathrow Airport?
Unfortunately, there is no free parking available, for extended periods of time, at Heathrow Airport specifically for Blue Badge holders. However, Heathrow Long Stay car parks offer 2 hours free parking and have dedicated blue badge spaces close to the bus stops.
Do you have to Pay to Drop Off at Heathrow Airport?
Charges apply at the Terminal Drop Off zones and the Short Stay car parks. Heathrow does, however, offer FREE parking for up to 30 minutes at the Long Stay car parks.
Can I Book a Heathrow Hotel and Parking Package?
We offer our customers exclusive, great value deals on hotel and parking packages at Heathrow Airport. To find your perfect match, select 'airport hotels with parking' in the search engine on the left, enter your dates, and then browse everything we have to offer.
What Happens if I Arrive Earlier or Later than Booked?
Don't panic - most car parks are prepared to accommodate you if you arrive earlier than expected, but try and call ahead as soon let them know. If you return late, you may be subject to a charge for the extra parking, payable at the car park and at the service provider's discretion. Make sure you check out the car park's details if you'd like any more information.
Airport Transfers
We may be known as the airport parking experts, but we also know a thing or two about airport transfers as well. Start your holiday as soon as you land with our huge selection of resort transfer options. We compare 1000s of deals to bring you top savings to 4000 destinations world-wide. Our prices start from under £5 per person one way.
Book Airport Transfers
London Heathrow
Heathrow Airport Parking