Gatwick Airport hotels
Gatwick Airport Hotels with Parking
Stay close to Gatwick from as little as £35 per night
If you've booked a flight from Gatwick you'll already be thinking about how you're getting to the airport, what time you have to leave, and whether you need to allow extra time for busy traffic. Purple Parking can help make those decisions easier with our selection of Gatwick Airport hotels with parking packages.

Staying in on a Gatwick Hotel means you can wake up refreshed, just moments from the terminal. No fuss, no stress, and all from as little as £35 per night.
☆ Sale Extended ☆
Here's something to help you brighten your day - if you get your parking sorted well in advance, you could access some of our lowest rates on the Sandman Signature, a luxurious hotel close to Gatwick Airport. We also offer further discounts on the Sofitel, Stanhill, Arora, and Ibis, all offering a slice of indulgence and convenience before you jet off. Search your dates and get saving, or head to the individual hotel pages to find out more.
Discounts valid on selected dates. Search yours today to find your discounts and deals.
Hotels at Gatwick
All prices are guide prices. For live prices and availability please enter your dates on the booking search bar.
Choose your Gatwick Hotel
1 - Departing from the North terminal? Explore our Gatwick North Terminal hotels that are only a short walk to check-in!
2 - Flying from South terminal? There's an extensive range of Gatwick South Terminal hotels that are either on-airport or a 10 minute drive away. Choose from quaint countryside B&Bs to renowned hotel chains.
3 - Want a hotel with an airport shuttle? If you want the ease of having a shuttle bus drop you off right outside your terminal, you'll love our affordable Gatwick Airport hotels with shuttle. We've also got a handy timetable with everything you need to know - from the cost of a ticket to the first and last running buses!
---
Our Hotel and Parking Favourites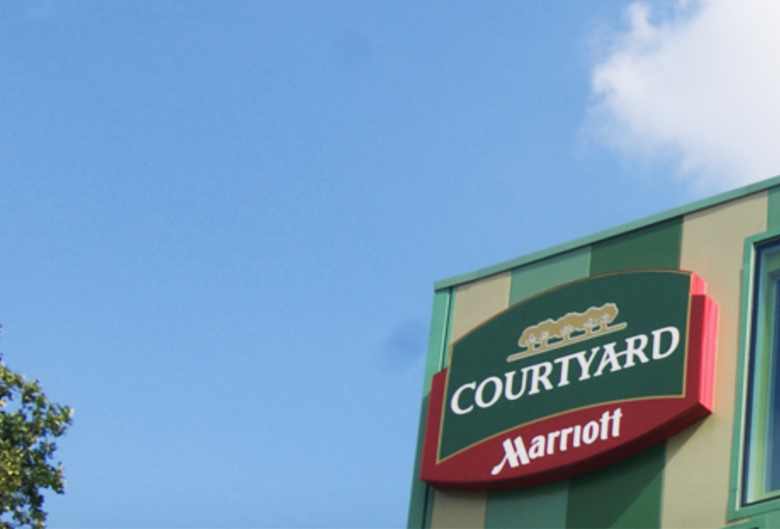 Hotel Rating: ★★★★
Distance: 0.5 miles
More Info: When you pull up and park at the Courtyard by Marriott your holiday begins. You won't need to move your car until your journey home. The hotel is only a 10 minute walk or a 3 minute shuttle bus ride from Gatwick. The hotel is very welcoming and the rooms are beautifully decorated. It really is a great package for under £100.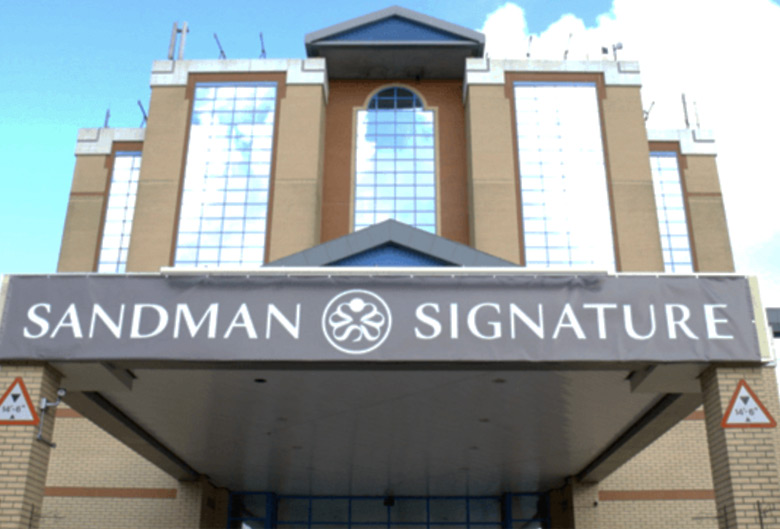 Hotel Rating: ★★★★
Distance: 3.9 miles
More Info: The Sandman Signature is a beautiful 4 star hotel with a pool, steam room and fitness suite. The decor throughout the hotel is second to none, as is the restaurant. WiFi is free throughout. The restaurant caters for all with under 5s eating free. On the morning of your flight you simply drive to Purple Parking which is 10 minutes away, your car will remain here. The shuttle bus will take you to and from the airport.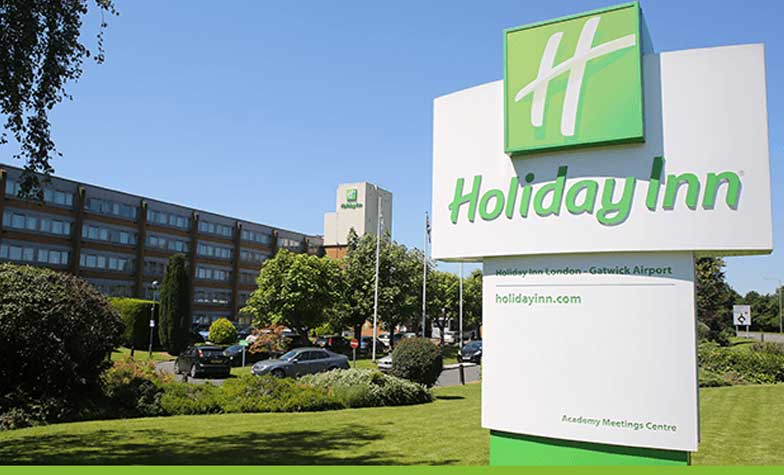 Hotel Rating: ★★★★
Distance: 1.0 miles
More Info: This package will tick a lot of boxes! The hotel is great, rooms are all ensuite with everything you'll need from a work desk to tea and coffee, flatscreen TV to a hairdryer. The beds are comfortable and there is free WiFi throughout. Kids eat free in the restaurant. In the morning your car will be collected from the hotel, you'll jump in a taxi to the terminal and on your return your car will be waiting at the terminal for you.
---
Cheap Hotels at Gatwick
Booking a night in a Gatwick hotel doesn't need to be deemed a luxury. There are plenty of ways to find a cheap hotel close to the airport and we're here to show you how.
Most people choose to stay close to Gatwick to help make their airport arrival more convenient, and in our opinion convenience shouldn't cost the earth, that's why we've put together a list of our top 5 cheapest hotels around Gatwick. We've given you a little detail on each of them to help with your decision.
Our Top 5 Cheap Gatwick Hotels with Parking:
Hotel Rating: ★★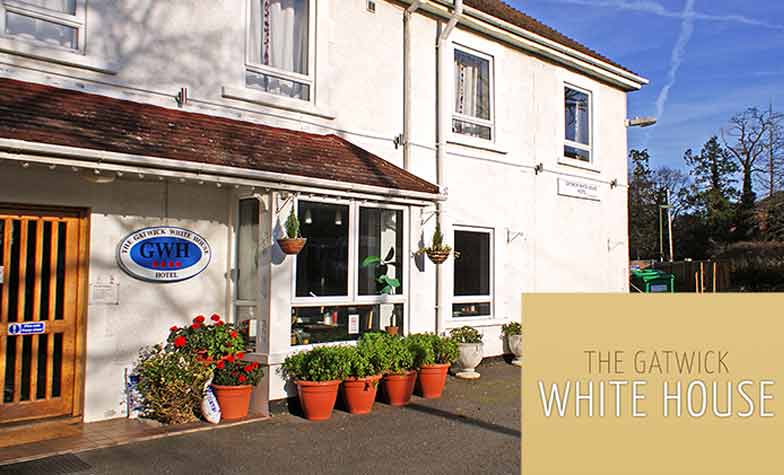 Distance: 1.2 miles
Transfers: Are by shuttle bus, they take 5 minutes to the North Terminal and 7 to the South and cost £6 per room.
More Info: This hotel is a real home away from home. Unlike some of the bigger, well-known hotels, the White House is small and intimate. There is free WiFi throughout and the en suite rooms are well-equipped with a TV, tea and coffee making facilities, and hairdryer.
The restaurant serves British and Indian cuisine with meals costing around £12. They'll give you a good feed before you leave with breakfast costing only £4.50 for continental and £8.50 for a full-English.
Hotel Rating: ★★★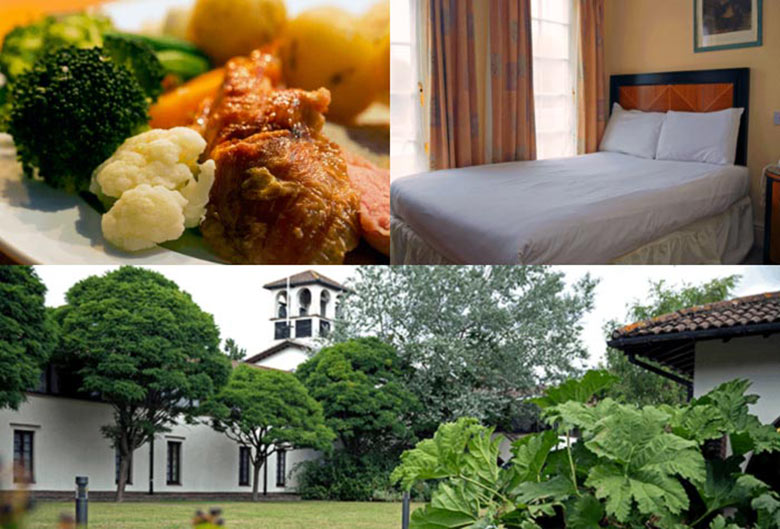 Distance: 3.6 miles
Transfers: Are by taxi, you can book at reception. They take 15 minutes to both terminals and cost just £10
More Info: The Britannia Hotel is a popular one. It shares the grounds and facilities of The Europa Hotel, so although the annex that houses the guest rooms may appear fairly basic, you have use of a fully-equipped gym, swimming pool and health club.
Guests also get to enjoy the Europa Hotel's Bars and restaurants for drinks, dinner and breakfast.
Hotel Rating: ★★★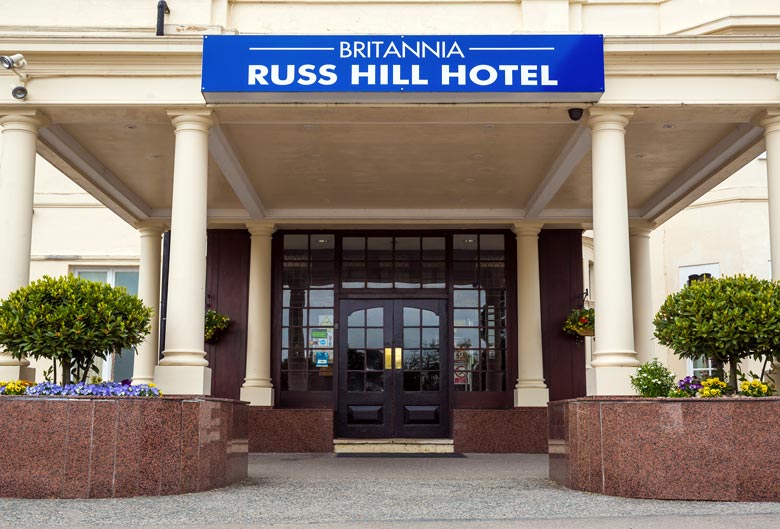 Distance: 3.8 miles
Transfers: Are by taxi, booked at the hotel reception. They cost just £9 and it takes 15 minutes to both terminals.
More Info: This beautiful hotel was a former manor house. It still retains its original charm and grandeur and the picturesque grounds remain well looked after. The decor in the rooms is basic but they are well-equipped and you'll enjoy a good night's sleep. WiFi is free in the hotel's public areas.
The hotel has a cosy bar and a dining room which serves delicious, traditional British breakfast and dinners. The atmosphere is very welcoming, many customers say they prefer it to many of the larger, chain hotels.
Hotel Rating: ★★★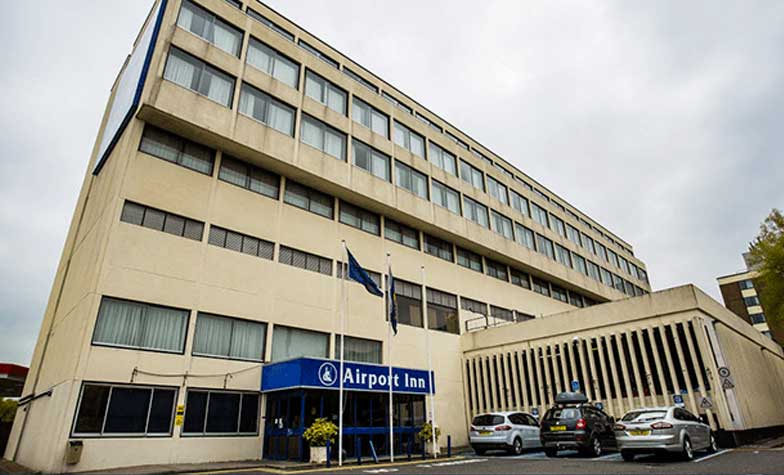 Distance: 1.0 miles
Transfers: Are by shuttle bus supplied by the hotel. They cost £3 per person and it takes 7 minutes to the North terminals and 4 to the South.
More Info: Although it is suitable for all of our customers, the Airport Inn is ideal for groups as they have suite rooms that can hold up to 7 people. The rooms are sound-proof so despite being so close to the airport, you're still guaranteed a good night's sleep. There is a friendly bar and restaurant welcoming groups and families.
Ibis Hotel - From £42 room only
Hotel Rating: ★★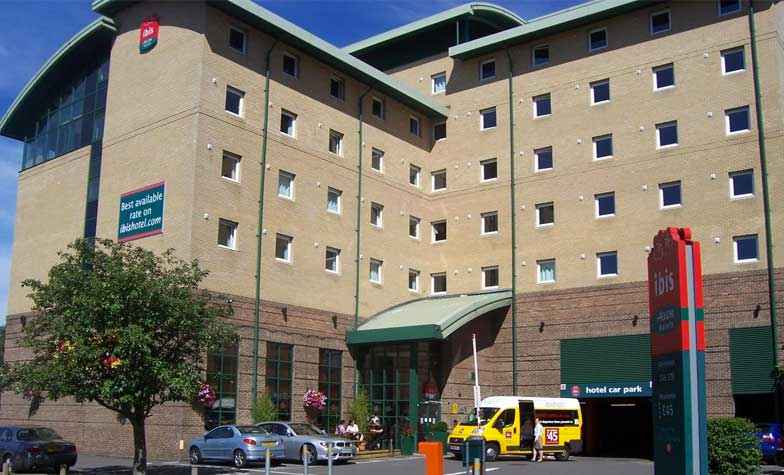 Distance: 1.7 Miles
Transfers: Are by shuttle bus provided by the hotel. They cost £3 and it takes 6 minutes to the North terminal and 5 minutes to the South.
More Info: What's not to love about the Ibis Hotel. It has the feel of familiarity from the moment you step inside. The staff are friendly and the rooms and public areas are well presented. WiFi is available throughout the hotel. The restaurant offers and all-you-can-eat continental buffet so you can be sure to leave for your flight full-up.
---
Find out More about our Gatwick Parking Services
The best way to decide what package you're after is to look at the different types of Gatwick parking available:
Parking at the hotel: This is a popular choice for our customers because the moment you pull into the hotel's car park you can forget about having to move your car again until your return. Your car will remain in a secure car park for the duration of your trip and you will jump on a quick shuttle bus or in a taxi to and from Gatwick airport.
Park & Ride: Park and Ride is popular because of the low prices. You get the best of both worlds with this package, enjoy a night in a hotel close to Gatwick and in the morning make a short journey, to the car park and jump on a shuttle to and from the terminal. We have paired our hotels with the best and most convenient car parks to ensure you get the best deal.
Meet & Greet: If you're looking for a swift arrival and departure at Gatwick airport then our Meet and Greet packages are for you. On the morning of your flight your car will be collected from either the hotel or the airport. The procedures are simple and you are just a short walk from check-in. Your car is returned to you at the terminal on your return, ready for you to hop in and drive home.
Packages vary from hotel to hotel. By running a quick search you will be able to compare each of the deals we have to make sure you're happy with the price and procedures.
---
Gatwick Hotels FAQs
Can I get a Refund on my Gatwick Airport Hotel Booking?
Yes, it is possible to get a refund on flexible bookings, if you request a refund before 23:59 the day before your booking is due to start. Non flexible bookings are unfortunately not eligible for a refund. If you want to cancel, please get in touch by using the 'contact us' link at the bottom of this page.
Can I Amend my Gatwick Hotel Booking?
Yes, it is sometimes possible to amend your booking details. To do so, please get in contact with a member of our team by using the 'contact us' link below.
Is it Possible to Book a Gatwick Hotel with Parking?
Absolutely. We offer a huge range of exclusive package deals for Gatwick hotels with parking included. To browse our range, enter your dates into the search engine to the left and click 'get my quote'.
Can I Get Free Parking with my Gatwick Airport Hotel?
Our hotel and parking packages are such good value, that they can often work out cheaper than booking just a night's stay in some hotels!
Are there any Gatwick Airport Hotels at the Terminal?
Yes, there are a couple of hotels within walking distance of North and South terminal. For North Terminal, we recommend a stay at the Hampton by Hilton, and for South Terminal, the Courtyard by Marriott.
Do any Gatwick Airport Hotels Offer Free Breakfast?
Yes, some hotels at Gatwick do include breakfast in their offer, including the Hampton by Hilton located close to North Terminal.