Bristol International
Bristol Airport Parking
The best Bristol Airport parking prices from the real experts
Make sure you get your trip off to the right start with a range of secured Bristol Airport parking from Purple Parking; if you are looking for cheap airport parking at Bristol then we can certainly help. All of our parking at Bristol Airport is within 5 minutes of the main airport building so there's no need to worry about long or tiring airport transfers.
Take a look at our great Bristol Airport parking deals to find secured, efficient parking close to Bristol Airport, book early and you could save up to 65% versus paying on the day.
Daily Bristol Airport parking
from
Weekly Bristol Airport parking
from
Parking at Bristol Airport
The prices shown are guide prices only and are based two weeks ahead.
Parking at Bristol Airport
Purple Parking acts as a booking agent for the Bristol Airport car parking listed below. As well as constantly reviewing our pricing to make sure you get the best deal and our cheapest airport parking at Bristol, we also carry out stringent checks to ensure that the service provided is of the highest standard.
Our services at Bristol Airport offer great value for money and make parking your car at Bristol Airport as easy as possible; we're an established company with on-the-ground experts, so you know you're in safe hands with whichever parking option you decide is the best one for you.
Park and Ride
Bristol Airport Parking Silver Zone has secure car parks located within a 1.5 mile radius from the airport so you won't have to go far to find a parking space. When it's time for you to head to Bristol Airport there is free transfer bus that will have you there in 5 minutes. The Bristol Airport Long Stay car park is located at the airport itself and also operates a free transfer bus which will get you to the airport in 5 minutes. Both of these Bristol Airport parking services as simple and straightforward making your parking at Bristol Airport a breeze.
Our Bristol Park and Ride services are provided by:
Bristol Airport Silver Zone parking
Bristol Airport Long Stay
Meet and Greet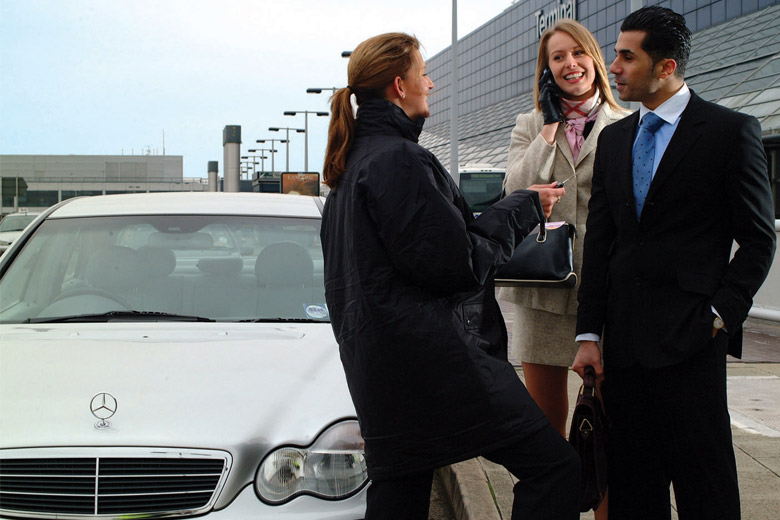 As easy as the Park and Ride parking at Bristol Airport is, there is an option if you'd like to enjoy a VIP experience from your parking. With Meet and Greet parking you won't even need to worry about finding a parking space for your car, simply drive to Bristol Airport and hand you car over to the professional Meet and Greet driver. While you stroll directly to the Airport the Bristol Airport Meet and Greet driver will park your car for you; when you return from your trip your car will be brought back to you and you can just hop in and head home.
Our Meet and Greet services at Bristol are provided by:
Bristol Airport Meet and Greet
Bristol Airport Parking FAQs
How much is it to park at Bristol Airport for a week?
With Purple Parking, prices for a straightforward park & ride at Bristol Airport start from £6.75 per day's parking, or £53.99 per week. We always recommend booking in advance for maximum savings.
How can I Save Money on my Bristol Airport Parking?
We always recommend you book your Bristol Airport parking in advance, as you can save up to 65% compared to paying on the day rates.
Is there free parking at Bristol Airport?
There are free-of-charge spaces for those dropping off and collecting passengers. The Waiting Zone area is located close to the entrance of the Silver Zone car park.
Can I Cancel my Parking Booking?
Yes, get in touch to cancel your parking, up until the night before your booking is due to start.
Can I Book a Bristol Airport Hotel with Parking Included?
Yes you can. Select 'airport hotels with parking' in the search engine and enter your dates to see all the great value Bristol Airport hotel and parking packages we have available.
Is there anywhere to park near Bristol Airport?
There are a few car parks located near Bristol airport however, for security and convenience, we would recommend parking at one of the official airport car parks. Bristol airport's Silver Zone car park offers top notch security, hassle-free procedures and prices from just £6.75 per day - perfect if you're looking to keep your parking costs down.
Can I just turn up and park at Bristol Airport?
You can turn up and park at Bristol airport, however we always recommend booking in advance to not only guarantee your space but to ensure you get the very best price. You can save up to 60% when you pre-book with Purple Parking.
Is there a Drop Off Point at Bristol Airport?
There is a waiting zone located at Bristol Airport's Silver Zone car park, where you can park for 1 hour for free. Dropped off passengers can catch a 5 minute shuttle bus to the terminal.
How much is the Drop Off car park at Bristol Airport?
Bristol Airport Drop Off Prices:
| Time at Car Park | Price |
| --- | --- |
| Up to 10 mins | £5.00 |
| 10 - 20 mins | £7.00 |
| 20 - 40 mins | £10.00 |
| 40 to 60 mins | £20.00 |
| Each additional hour or part of thereafter | £20.00 |
If you think you might need longer than 10 minutes we would recommend the Short Stay car park to save money.
How much is the Short Stay car park at Bristol Airport?
Bristol Airport Short Stay Prices:
Short Stay and Pick Up Car Park - Turn Up Prices
Duration
Gate Price
0-20 mins
£5.00
20-40 mins
£7.00
40-60 mins
£10.00
1-2 hrs
£12.00
2-3 hrs
£13.00
3-4 hrs
£14.00
4-12 hrs
£17.00
12-24 hrs
£45.00
Per day thereafter
£19.00
What is Bristol Airport's Postcode?
To get to Bristol Airport, use the postcode BS48 3DY for your sat nav.
Airport Transfers
Planning your big family trip and still have a few things left on your to-do list? Don't forget your airport transfers! Not only can you book your airport parking with us, but you can also sort your airport transfers for when you land at your destination airport as well. That means you can start your holiday as smoothly as possible, with our huge selection of top-notch resort transfer options. We compare 1000s of deals in 4000 destinations world-wide to bring you top savings. Our prices start from as low as £5 per person one way.
Book Airport Transfers
*Please Note: All prices on this page are correct at time of writing and subject to change.
Bristol International
Bristol Airport Parking