Bristol Airport Hotels with Parking
Bristol Airport Hotels with Parking
Bristol Airport Hotels with Parking
Bristol Airport Hotels with Parking
Great Value Bristol Airport Hotels Starting From £59.25 Per Night
For the best hotels close to Bristol Airport, Purple Parking has exactly what you need. Whether you're after something on a budget, great value bed and breakfast packages or one of our extra special Bristol Airport Hotels with parking, we have a wide selection for you to choose from.
Why not consider one of our top notch hotel and parking packages? Get your car parked and sorted, and stay a few minutes away from the airport. Rooms start from £78 for a night's stay and a week's parking.
Inc 1 week's parking
from
Hotels at Bristol Airport
All information is correct at the time of writing. For the latest information, please check our availability page by entering your dates into the search tool.
---
Our Bristol Airport Hotels and Parking Favourites
Avoid a long journey to Bristol Airport the morning of your flight, with a stay in one of our top airport hotel picks and parking included! Save up to 70% with our hotel and car parking packages - here are some of our favourites packages at Bristol Airport:
Winford Manor Hotel with Parking at the Hotel - from £150.00 inc. 1 week parking
Hotel Rating: ★★★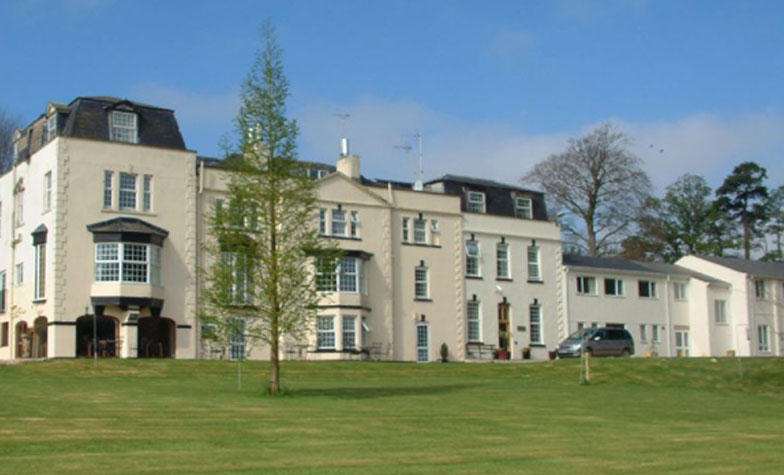 Distance: 1.8 miles
More Info: Situated within seven acres of picturesque grounds, the Winford Manor at Bristol Airport Hotel is one of our most archaic hotels. With a history stretching back to the 17th century, all rooms are comfortable and beautifully decorated. To get to the airport, the hotel runs a free 24 hour shuttle which takes 5 minutes.
Bedrooms at Winford Manor are super comfortable and come with a TV, tea and coffee, a phone, hairdryer and hair straighteners. WiFi is free and available throughout the hotel. Head to The Labyrinth Restaurant for traditional dishes using the freshest seasonal ingredients. Breakfast is included in the price, and is continental or cooked to order. If you're after something a bit lighter, the hotel bar serves up tasty homemade snacks and light bites.
With this hotel and parking offer, you can leave your vehicle on hotel grounds for the entire duration of your time away. Simply hop on board the free shuttle to the airport and leave your worries behind you.
Redhill House with Hotel Parking - from £165.00 inc. 1 week parking
Hotel Rating: ★★★★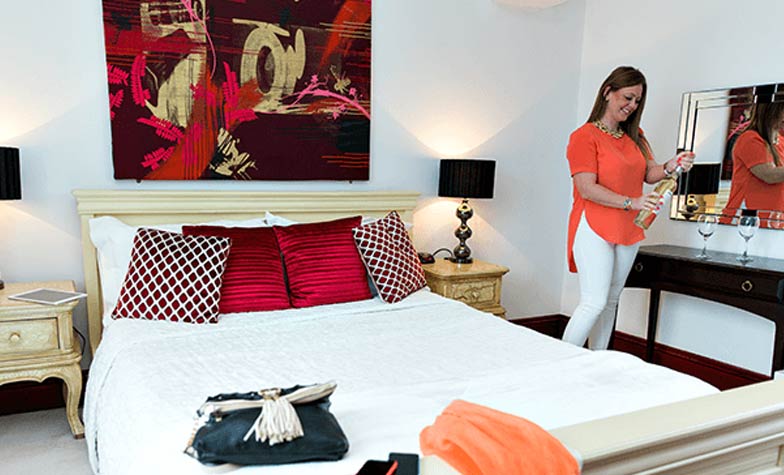 Distance: 1.8 miles from the airport
More Info: A beautiful bohemian boutique hotel, staying at Redhill House is a real treat. Rooms each have their own individual theme and design, so you can enjoy a personalised experience. Enjoy the fresh air as you explore the two acres of gardens that surround the hotel, with stunning views of the Mendip hills.
The rooms at Redhill House are designed with comfort in mind, and come with a TV, tea & coffee maker, phone, hairdryer, and hair straighteners. There is also free WiFi throughout the hotel. A cosy on-site restaurant serves delicious homemade meals. Breakfast, which is continental or cooked to order - is included in the price, so you can make sure you're ready and raring to go for your day of travelling!
This hotel and parking package includes on-site hotel parking for the entirety of your time away. Speak to a member of the team to help get your airport transfers arranged with their preferred taxi company. This transfer will cost around £10 each way, and take only five minutes in good traffic.
Hampton by Hilton - from £177.00 inc. 1 week parking
Hotel Rating: ★★★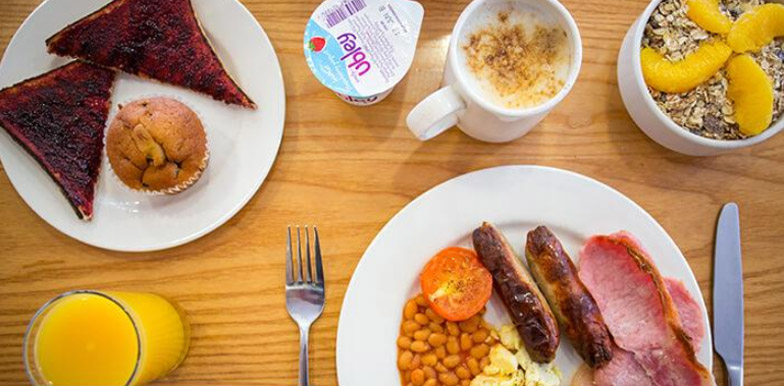 Distance: 1 mile
More Info: Conveniently located a 3 minute walk from the terminal, the 3-star Hampton by Hilton is fantastic for travellers who are looking for something stylish and highly convenient. The Hilton does not fail to meet its usual high standard, and offers great facilities, including a 24-hour fitness centre.
Bedrooms are trendy and come with cosy Hampton beds. Free WiFi, a 32 inch HDTV, work area, hairdryer, alarm clock/radio, tea & coffee making facilities, and much more are also provided with the room. A free delicious hot breakfast is included in every stay, as well as an on-site restaurant that offers a huge variety of meals, plus a 24/7 snack menu, where you can tuck into pizzas, baked potatoes, sandwiches or soup. What's more, this hotel also offers a complimentary shuttle bus service to make it easy to get to and from the airport if you'd prefer not to walk.
The current hotel and parking package offer at this Bristol Airport hotel includes parking in the Silver Zone. You'll need to hand in your keys at this car park's reception, as your vehicle will be moved to a secured compound. Once you're sorted and ready to go, simply hop on the free shuttle bus to the airport and walk to the Hampton.
---
Our Top Cheapest Bristol Airport Hotels:
DoubleTree by Hilton Cadbury House with Parking at The Hotel - from £78.00 inc. 1 week parking
Hotel Rating: ★★★★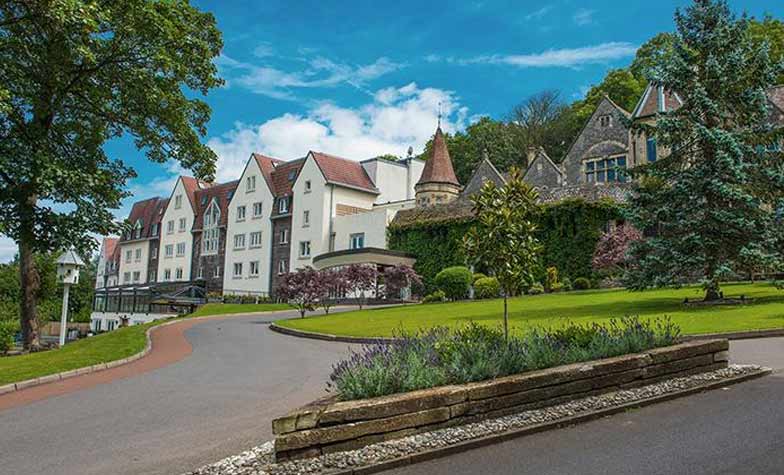 Distance: 6.6 miles
Transfers: Via taxi, and cost £22.00 each way
More Info: Pure four star luxury, the DoubleTree by Hilton Cadbury House at Bristol Airport has everything you need for a deluxe stay - from the exclusive Marco Pierre White Steakhouse Bar and Grill, to the amazing health club. You can get to the airport by taxi, which costs £22.00 each way.
The DoubleTree rooms are trendy and modern, with an impressive range of amenities to make your stay as comfortable as possible. There's blackout curtains to help you drift off, as well as free WiFi, an ensuite bathroom, flat screen TV, and a work desk. Dining at this hotel is something not to be missed, especially if you love steak! The Marco Pierre White Steakhouse Bar and Grill serves up 28 day old steaks with tasty beef dripping chips, amongst an array of other dishes. Two courses is £20.00 and three courses is £25.00. There's also a specially developed kids menu too; children under 9 eat for free if they're with an adult.
Holiday Inn with Parking at the Hotel - From £133.95 inc. 1 week's parking
Hotel Rating:★★★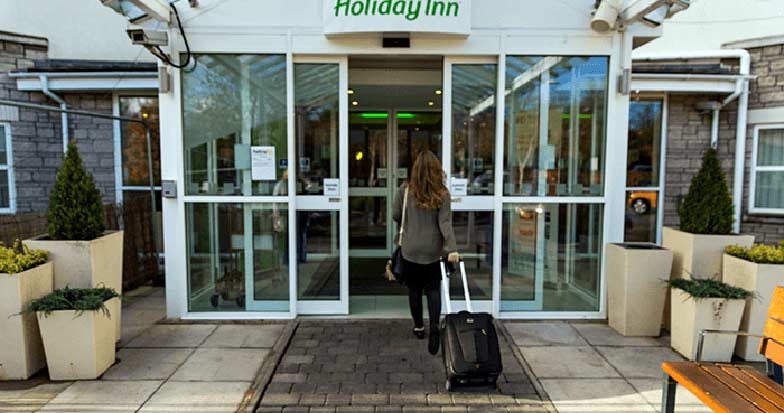 Distance: 2.5 miles
Transfers: Are via shuttle bus and run 24 hours a day. Transfers take 6 minutes and cost £4.00 per person
More Info: A hotel you can trust, the Holiday Inn at Bristol Airport is the perfect choice for your stay before you head off on your holiday! Travellers like staying for the yummy breakfast, available from 4.00am, and for the transfers that run 24 hours a day. Standard rooms are super comfy and modern, with executive upgrades available if you're after a more premium edge. Rooms come with a flat screen TV, tea & coffee making facilities, iron & ironing board, and a hairdryer. WiFi is free and fast, and can used in the rooms as well as throughout the hotel.
For lunch and dinner, the Spot Kitchen and Bar dishes up a variety of international meals. If you're watching your pennies, children under 12 eat for free. There's also the Bar & Lounge which has a range of hot and cold snacks on offer across the day. If you'd prefer, there's also 24-hour room service.
---
Our Bristol Airport Hotel and Parking Offers
Not sure which option to choose? Loads of our hotels offer multiple hotel and parking packages, so you're sure to find your perfect match Have a look below for more information about the different different types of parking available:
Parking at the Hotel: One of the most popular options, well-loved by travellers for its convenience. All you need to do is park at the hotel you're staying at, and your car will be exactly where you left it - you don't need to find alternative parking arrangements. Simply park on-site and organise any necessary taxi transfers to the airport through reception.
Park & Ride: Great for when you're on a budget, the park and ride will get you to the airport in a few minutes and is much cheaper than getting a private taxi. Simply catch the free bus to departures and you'll be flying off to your destination in no-time!
Meet & Greet: If you're worried that you might be in a rush, our Meet and Greet packages are ideal. Your car will be collected and parked by your very own chauffeur, so you can head straight to departures.
Airport parking packages vary depending on the hotel, but if you do a quick search, you'll be able to find the best prices and deals for your dates.
Airport Transfers
Although we're renowned for providing top notch airport hotel and parking packages, we're also a big name for airport transfers too. We have a huge portfolio of transfer options for your journey from the airport to your hotel, including shared shuttles speedy buses for those who like to balance convenience with top value, private vehicles that work just like a taxi without needing to flag one down, and larger vehicles such as minibuses and coaches. We can also provide wheelchair-adapted vehicles for those who make use of a wheelchair. So rest assured, no matter what you are looking for, whatever your budget, and whatever your group size, you will find your perfect match.
Book Airport Transfers
---
Sign up and Save
Nab the latest deals and save your pennies by signing up! We promise that that's exactly what you'll get (we hate spam as much as you do).
Get exclusive offers.