Cadbury House at Bristol Airport
Cadbury House at Bristol Airport
★★★★
Situated in the rolling countryside, DoubleTree by Hilton Cadbury House is a four-star boutique hotel in Congresbury, boasting a large car park and fantastic views over North Somerset.
Cadbury House is rated 6/10 by 1 customers. Read the reviews.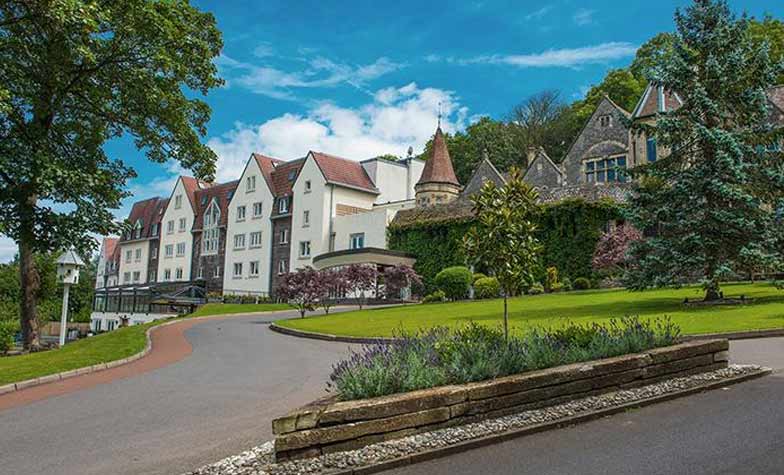 Bristol Airport Transfers and Hotel Parking
Save big with our room and parking packages at our Bristol Airport Hotels. Cadbury House offers a standard room and parking in their on-site car park, for one inclusive price.
To get to Bristol Airport, make sure you arrange your taxi in advance through the hotel. The hotel will direct you to their preferred taxi company. It costs £22.00 for a one-way trip and takes 20 minutes. Alternatively, the bus stop for the Bristol Airport Flyer is located a fifteen minute walk from Cadbury House. The Bristol Airport Flyer costs £7.00 for a return ticket.*
Rooms
The stylish standard guest rooms at Cadbury House come with:
✓

Free Wifi

✓

Ensuite bath or shower

✓

Blackout curtains

✓

Free Toiletries

✓

LCD flat screen TV.

✓

Work desk and chair for any last minute emails.
Cadbury House also has deluxe upgrades for those wanting to start their trip in luxury. Just add it onto your package through your booking and we'll sort the rest!
Check-in: from 3pm. Check-out: by 11am
Breakfast and Dining
There are plenty of options for guests staying at Cadbury House. You can sample the delicious food at the on-site Marco Pierre White Steakhouse Bar and Grill, a glamorous spot to sample locally-sourced steak and a range of fine wines and local ales. Offering a variety of vegetarian, fish and meat dishes, Marco Pierre White is perfect for those looking for luxury. Steaks start from £28.95, and mains from £13.50.
For something a little more causal, opt for Bardolino Bristol, an on-site Pizzeria, Bellini and Espresso Bar, described as "ultra-casual". Or if staying in bed is more your thing, room service is available from 10am-10pm.
For an extra fee, enjoy a breakfast buffet, offering a full-english, as well as cold options such as yogurts, breads and cereal. Served 7am-10am.
For those getting into the holiday spirit early, Cadbury House's newly refurbished on-site bar serves cocktails, beers and spirits as well as a selection of bar snacks and nibbles.
Sports and Exercise
Guests staying at Cadbury Lodge can enjoy a range of facilities at the hotel's health club for an additional fee, such as a fully-equipped gym, a pool and sauna.
Treat yourself to an early morning pilates class, before heading to the outdoor hot tub to unwind. Or run a few miles on a treadmill before kicking back in the steam room!
To book your classes in advance, visit Cadbury Hotel & Spa's theClub webpage.
Cadbury House Spa
Guests can indulge themselves in a variety of treatments at the on-site spa, from pedicures to massages, aromatherapy to facials. From a single treatment to a full day of pampering, there's no better way to kick start your holiday!
To book your treatments in advance, visit Cadbury Hotel & Spa's theSpa webpage.
A minimum age restriction of 16 years is in effect for spa days. However, a small selection of treatments for those 12 and over are offered.
Accessibility
Cadbury House provides plenty of services and amenities to ensure your stay is as smooth and comfortable as possible. From accessible parking and lifts, to braille menus and visual alarms, the staff endeavour to meet your requirements.
Summary of the Cadbury Hotel:
An elegant and comfortable boutique hotel with a spa and health club, located twenty minutes from Bristol airport.
Pros
Cons

✓

Variety of on-site restaurants and room service available

✗

Extra fee for use of some facilities

✓

Set in a beautiful and peaceful area within good distance of a major road network.

✗

Rooms are not provided with fridges or have a capacity for extra beds.

✓

A variety of comfortable and elegant room options available.

✗

Transfers take 20 minutes and costs £22.00 one way
Hotel Facilities
✓

129 Rooms

✓

3 Suites

✓

Choice of Restaurants

✓

Spa and Healthclub
*Prices correct at time of writing and subject to change.