Hilton London Gatwick
Hilton Hotel Gatwick
Nothing gets as luxurious as the 4 star Hilton Hotel at Gatwick. It's also one of the closest hotels to the runway too - don't worry, you won't hear any of the noise as rooms are triple-glazed.
Hilton Gatwick is rated 8.4/10 by 85 customers. Read the reviews.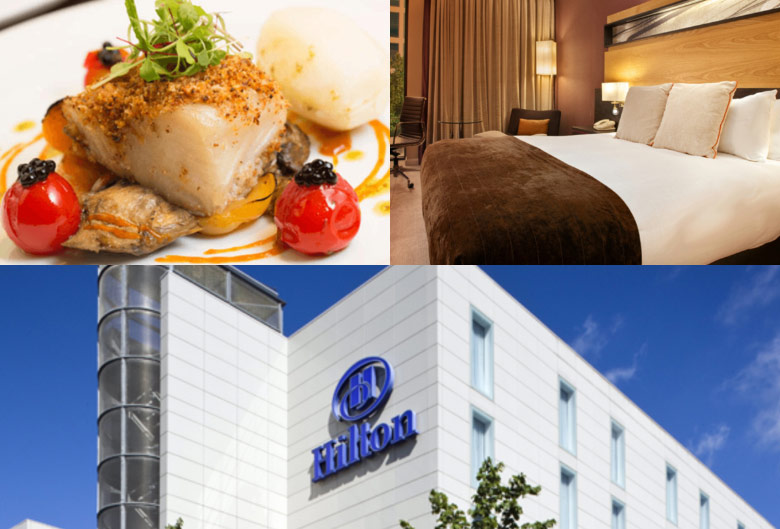 One of our closest Gatwick Airport hotels, the Hilton Hotel has some fabulous facilities including a gym, two popular restaurants, and a business centre - there truly is something for everyone. The best part? You're only a 5 minute walk from check-in at the South Terminal.
Rooms provide optimum comfort and are triple-glazed to ensure tranquility and a good night's sleep. We also can't recommend the two on-site restaurants enough either - a hearty and delicious buffet at The Garden Restaurant and a la carte dining at Amy's Restaurant.
As the hotel is so close by to check-in, we recommend that you check your bags in early the night before so you can have a little lie-in. Virgin Atlantic, British Airways, Easyjet, Thomas Cook and Thomson all now offer luggage check-in the night before your flight; please check with your airline before you travel to find out more about the terms and conditions.
Gatwick Airport Transfers and Parking
The three packages on offer at the Hilton Hotel Gatwick is: Maple Meet and Greet, Parking with Purple Parking and Deluxe Room with Meet and Greet Parking.
Hilton with Maple Meet & Greet includes parking for the whole time you're away. A Maple driver will meet you in the Hilton's car park and park your car in a secured car park near to the hotel whilst you're away. On the morning of your flight, walk to the South Terminal through the hotel's walkway; you'll be able to collect your car at the terminal when you arrive back.
Hilton with Purple Parking is an exclusive package available through us and includes parking at Purple Parking with the park and ride. Before heading to the hotel, you need to drive to Purple Parking to drop off your car and keys before catching the shuttle bus (included in price) to the South Terminal. You can walk to the hotel from there.
Getting to the Airport:
From the hotel, it's only a 3 minute walk to the South Terminal via a connected corridor from the Hilton Hotel. To get to the North Terminal uses the corridor to the South Terminal and follow the signs for the free monorail. It runs every 3 minutes and takes 2 minutes to get to the North Terminal.
Rooms
The Hilton Gatwick's guest rooms are surprisingly quiet, especially when you can see the runway from your room. Rooms are fully soundproofed so you can enjoy plane spotting without any of the noise. Decor-wise, these rooms certainly live up to Hilton expectations and are comfortable and sleek.
Rooms come with: an en-suite bathroom with La Source toiletries, plasma TV, WiFi, phone, radio, hairdryer, air conditioning and a tea & coffee maker.
Check-In: from 3.00pm. Check-out: by 12.00pm
Dining
It's definitely worth visiting the two on-site restaurants during your stay here! The Garden Restaurant serves breakfast (5.30am - 10.30am on weekdays, and 5.30am - 11.00am at the weekend) and dinner daily (6.00pm - 10.30pm on weekdays and from 5.30pm - 10.30pm at the weekend). Dishes on offer include a carvery, Italian pastas, veggie options and much more. Kids under 10 eat for free and can enjoy a special children's menu put together by child nutritionist Annabel Karmel.
Amy's Restaurant is a glamorous yet intimate setting with an impressive a la carte menu - superb food to enjoy before you travel. Using only the finest local ingredients, you can enjoy British cuisine with a contemporary twist, such as pumpkin ravioli, corn fed chicken, pan fried sea bream and English beef fillet.
If you're after something lighter, head to Amy's Bar where there are snacks and a great selection of spirits, cocktails and gins. Food is served from 10.00am - 1.00am all week, too!
Accessibility
The hotel is accessible, with accessible rooms and has ramp access, lifts and hearing loops. Service dogs are also welcome, as is additional assistance from a member of Hilton staff.
Summary of the Hilton London Gatwick:
A luxurious 4 star hotel that is right next to Gatwick's runway. Superb restaurants for a lovely dining experience.
Pros
Cons

✓

Very close to the terminal

✗

In-room WiFi costs £14.95 (free in public areas)

✓

Two fine dining on-site restaurants

✗

Tired decor in places