Leeds Bradford Airport Hotels
Leeds Bradford Airport Hotels with Parking
Leeds Bradford Airport Hotels
Leeds Bradford Airport Hotels with Parking
Stay in a Leeds Bradford Airport Hotel with Parking £45 per night
Get even more from your holiday with a stay in a Leeds Bradford Airport Hotel. Whatever your budget, explore our range of trusted 3 and 4 star hotels where you can make savings of up to 70% off! We also have a fantastic range of add-ons to make your holiday go without a hitch - from great breakfast deals to exclusive parking packages.
Be only a few minutes from the terminal with prices starting from £45 per night.
Leeds Bradford Airport Hotels
Hotels at Leeds Bradford Airport
All prices are guide prices. For live prices and availability please enter your dates on the booking search bar.
From
£45.00
From
£75.00
From
£56.00
From
£95.00
From
£65.00
From
£85.00
All information is correct at the time of writing. For the latest information please check our availability page by entering your dates into the search tool.
Cheap Hotels at Leeds Bradford Airport
Staying overnight in a Leeds Bradford Airport Hotel doesn't have to cost the earth! We've got a fantastic range of affordable airport hotels both near, and at, Leeds Bradford Airport.
Many travellers choose to stay in a Leeds Bradford Airport Hotel as it makes travelling even more simple. Here's our list of our top cheapest hotels around Leeds Bradford Airport.
Our Top Cheapest Leeds Bradford Airport Hotels:
Britannia with Parking at the Hotel - from £75.00 inc. 1 week parking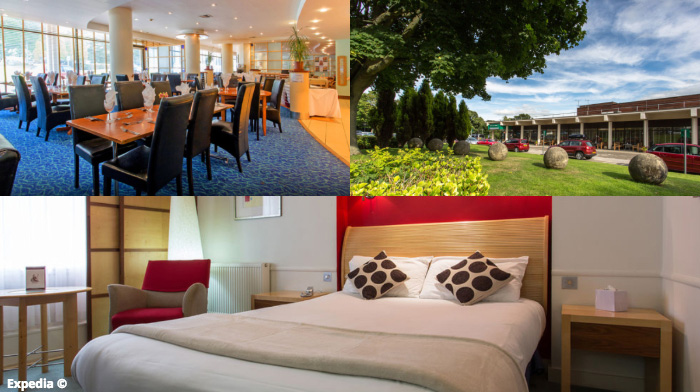 Star Rating: ★★★
Distance: 3.1 miles
Transfers: are by taxi and are £6.00 for an adult return journey; these can be arranged by the hotel.
More Info: Nestled in the quaint village of Bramhope, the Britannia is only 5 minutes from the airport and is a great option if you're looking to be near to airport but want the peace and tranquility.
Rooms are come with all the basic amenities you need, including a TV, hairdryer, phone and tea & coffee making facilities. Guests say that the rooms are a good size. WiFi is free in public areas of the hotel if you want to stay connected on social media or catch up on work emails before you're away. If you're looking for something to eat, there's the Junction Restaurant which serves up traditional British dishes. There's also the Java Lounge Cafe Bar for lighter meal options and drinks.
Mercure Parkway with Sentinel Parking - From £85.00 room only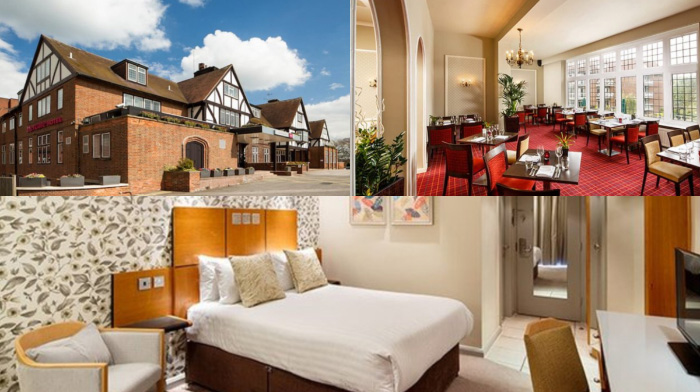 Star Rating:★★★
Distance: 4.9 miles
Transfers: run from the Sentinel car park when needed, take 2 minutes and are included in the price.
More Info: Situated amongst 8 acres of beautiful grounds and meadows, the Mercure Parkway is a peaceful haven - and a relaxing stay is exactly what you'll get. What could be better than being a 10 - 15 minute drive away from the airport whilst enjoying rural views and some peace & quiet?
You'll never be stuck for things to do at this hotel - there's a leisure club with a pool, a jacuzzi, a steam room, saunas, a hairdresser's and even a beauty salon. If you opt for a non-ground floor room you will most likely have a balcony to gaze out onto the pretty Yorkshire countryside views. Rooms come well equipped and are roomy and come with a TV, hairdryer, tea & coffee maker and an iron. WiFi is throughout the hotel and is speedy. There's also a restaurant at the hotel which dishes up generous meals in a chilled atmosphere.
Travelodge with Sentinel Parking - From £59.00 inc 1 week parking
Star Rating: ★★★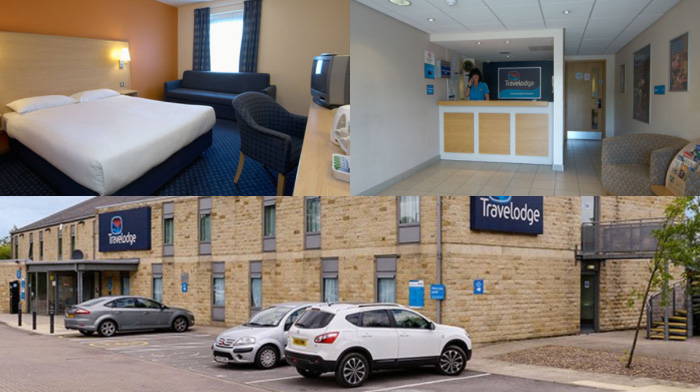 Distance: Connected to the airport
Transfers: Aren't needed as the hotel is only a short stroll from the terminal.
More Info: Only a 2 minute walk from the airport, the Travelodge is the perfect budget-friendly place to stay - all the basic amenities for a great price! This parking package includes parking at the Sentinel car park for the whole of your trip; simply drop your car off at the car park and take the 2 minute shuttle to the terminal, where the Travelodge is (journey included in price).
The Travelodge has clean and spacious rooms which come with all the amenities you need, including freeview TV, a king size bed, phone, tea & coffee maker, and a desk. WiFi is free for the first 30 minutes and is £3.00 for 24 hours. The hotel doesn't have a restaurant, but there are plenty of great places to eat at in the terminal. If you're in a hurry, you can grab a breakfast box from reception anytime you want - and it's £5.25 per person.
Book early to avoid disappointment
We recommend that you book your Leeds Bradford Airport hotel as early as possible to get the best prices - last minute doesn't always work out being cheaper!
Leeds Bradford Airport Hotels with Parking FAQs
Which Hotel is Closest to the Leeds Bradford Airport Terminal?
The Travelodge is the closest hotel to the terminal, which is only a 2 minute walk away.
Why Should I Book a Leeds Bradford Airport Hotel and Parking Package?
Booking a hotel and parking package is often not much more expensive than booking a night's stay on its own! Furthermore, by booking your parking well in advance, you can get the best rates and guarantee yourself a space on the day.
Can I Get a Refund on my Booking?
Yes, you can get a refund if you booked both a flexible package and cancel no later than 23:59 the day before your booking is due to start. To get your refund, get in touch with Purple Parking by using the 'contact us' link at the bottom of the page.
Which Leeds Bradford Airport Hotel is the Cheapest?
Our cheapest hotel on offer at Leeds Bradford Airport is the Britannia, with prices for a night's stay starting from £45, and a night's stay with a week's parking from £75.
How Do I Get to Leeds Bradford Airport from the Hotel?
From the Travelodge, Leeds Bradford Airport is simply a 2 minute walk away. With the Britannia and Mercure Parkway, you will either need to arrange your own taxi transfer, or move your vehicle to your chosen car park in the morning and catch the shuttle bus the rest of the way.