4 Deck Lounge Birmingham
4 Deck Lounge Birmingham
Avoid the hustle and bustle of the main departures terminal with a Lounge Pass for the 4 Deck Lounge
Enjoy an escape from the crowds with this peaceful airport lounge. You can relax in a comfy seat with free snacks, drinks and WifI to keep you entertained while you wait for your flight from Birmingham Airport. You'll also find TVs and flight information display screens so you can really unwind without worrying about missing your flight.
4 Deck Lounge Birmingham
Live prices shown are guide prices only and based two weeks ahead, per person. These prices are subject to change dependant on supplier availability and pricing.
4 Deck Lounge Birmingham is rated 0/10 by 0 customers. Read the reviews.
4 Deck Lounge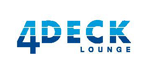 There are no age limits for entry to the 4 Deck Lounge.