Crowne Plaza
Crowne Plaza at Birmingham Airport
★★★★
The Crowne Plaza at Birmingham Airport
Crowne Plaza is rated 9.6/10 by 4 customers. Read the reviews.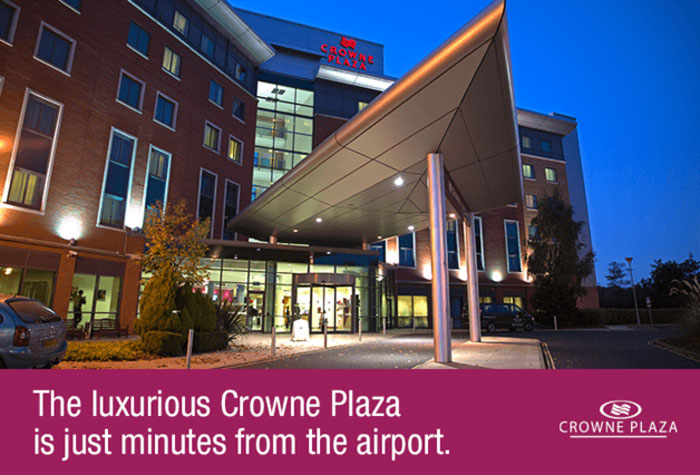 Birmingham Airport Transfers and Parking
Looking for a touch of luxury in your Birmingham Airport Hotel? Then look no further than the Crowne Plaza, with it's own onsite gym and sauna. What's more, by booking with Purple Parking, you can save up to a massive 70%!
This package includes parking at the hotel for the entirety of your trip. You'll find the car park just next door, and you'll need to hand in your keys to reception in case it needs to be moved while you're away. In the morning, you'll need to catch a taxi transfer to the airport, which costs around £8 - £10 each way.
Directions and full details will be included in your email confirmation.
Rooms
The rooms at the Crowne Plaza are comfortable and warmly decorated, and come with the following:
✓

Flat screen TV

✓

Free WiFi

✓

Minibar

✓

Tea & coffee facilities

✓

Hairdryer

✓

Phone
Check-In: from 2.00pm. Check-out: by 11.00am.
Restaurants & Bars
Restaurants
Tuck into dinner in the hotel's Eleven Bar & Grill. Select between a range of continental dishes, and British steaks. Main meals start from around £16.95 per person, or you can get the 3-course set menu deal for £20 per person when you book your meal in advance with us. The restaurant is open daily 6.30pm - 9.30pm.
Bars
Relax and unwind with your favourite drink in The Lobbyish Lounge bar, overlooking a serene lake. You ca expect all the usual soft and alcoholic beverages, along with Starbucks hot drinks. If you fancy a bit to eat, there are also light snacks and pastries available. The bar is open every day 7am - 11pm.
Breakfast
For breakfast, enjoy an all-you-can-eat full-English and continental buffet, served in the Eleven Bar & Grill. If you book in advance with us, you can grab breakfast for £15 per person, saving you up to £3.95 compared to booking at the hotel. Breakfast is served 6am - 10.30am every day.
Things to Do
This hotel has an onsite gym and sauna, which is free for guests! These facilities are open every day, 6am - 10.30pm.
Accessibility
This hotel is accessible and comes with the following features:
✓

In room emergency pull cords

✓

Lift access to all floors

✓

Accessible toilets

✓

Accessible parking

✓

Bathroom turning space

✓

Bathtub seat

✓

Accessible in room heating, lighting and cooling controls.
If you would like an accessible room, please call us in advance of booking.
Summary of the Crowne Plaza at Birmingham Airport:
The Crowne Plaza is a luxurious four-star, with its own onsite gym and sauna and only minutes from the airport.
Pros
Cons

✓

Comfortable rooms

✗

Pay for transfers to the terminal

✓

Free WiFi

✗

Breakfast is £15.

✓

Free to use gym and sauna

✗
Hotel Facilities
✓

Free WiFi

✓

1 onsite restaurant

✓

1 onsite bars

✓

312 guest rooms