Holiday Inn Express Birmingham Airport
Holiday Inn Express Birmingham Airport
10 minutes from Birmingham Airport, the 3 star Holiday Inn Express NEC is located at Europe's biggest exhibition centre in Europe - the NEC. Enjoy a free breakfast in the morning, too!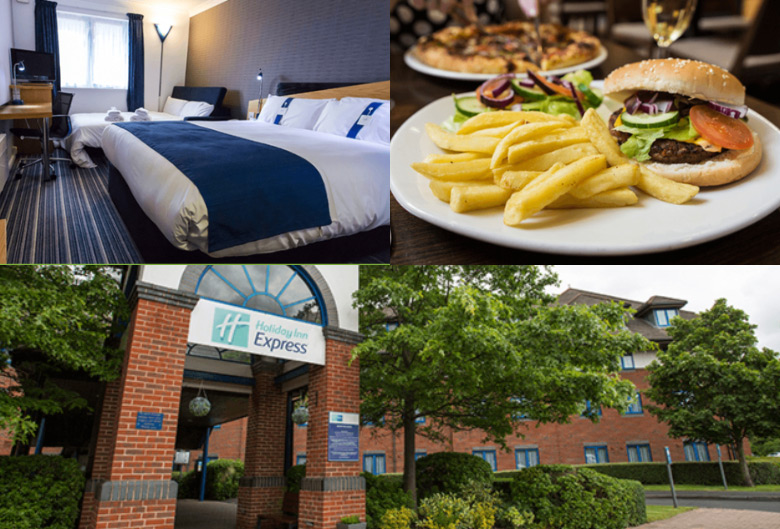 Birmingham Airport Transfers and Parking
The packages on offer at the Holiday Inn Express NEC are: Parking at the Hotel and Parking with Airparks.
Parking at the Hotel: includes parking at the Holiday Inn Express NEC for the whole time you're away. Drive to the hotel's car park, park up and hand your keys over to reception in case your car needs to be moved within the hotel's car park.
Parking at Airparks: includes parking at Airparks. Park in the Holiday Inn Express' car park overnight (included in price). On the morning of your flight, drive to the Airparks car park. Hand your keys over once parked, and then take the shuttle bus to the airport.
Getting to the Airport:
From the Hotel: you can get a taxi to Birmingham Airport, which takes 10 minutes and costs between £7.50 - £12.00.
From Airparks: catch the shuttle bus - it takes 14 minutes and runs every 25 minutes, 24 hours a day.
Rooms
Guests say that rooms are clean, bright and cosy.
Rooms come with: free WiFi, air conditioning, blackout curtains, flat screen TV, tea & coffee maker, desk, hairdryer.
Check-In: from 3.00pm. Check-out: by 12.00pm.
Dining
Located at the hotel is the Great Room Restaurant which serves up favourites such as burgers, pasta and curries from 6.00pm - 10.00pm. If you get hungry during the night, you can enjoy the 24 hour pizza menu.
The hotel bar serves wines, spirits, beers and soft drinks and is open every morning and evening daily.
Breakfast is free and is the Express Start breakfast buffet - full of hot and cold items. Breakfast is served from 6.30am - 9.30am during the week, and from 7.00am - 10.30am at weekends.
Accessibility
The Holiday Inn Express is fully accessible, and comes with: accessible toilets, accessible entrance, disabled parking bays, lifts, emergency pull cords, grab rails and visual alarms. Please call us beforehand if you wish to book an accessible room.
Summary of the Holiday Inn Express NEC:
An affordable hotel located 10 minutes from Birmingham Airport, and minutes from the NEC. Enjoy a free breakfast and free WiFi.
Pros
Cons

✓

Free WiFi

✗

Transfers cost £7.00

✓

Fast check-in