Holiday Inn Express at East Midlands Airport
Holiday Inn Express at East Midlands Airport
★★★
Ideal for a speedy start to your holiday, the Holiday Inn Express is less than a mile from the airport, with breakfast starting from 4am for the early birds.
☆ Discount Available for Holiday Inn Express with Meet & Greet ☆
Thinking about combining your fantastic value Holiday Inn Express booking with your luxury Meet & Greet parking deal? Why not, especially when our new, lower rates are now live? If your looking for a package for 8 days parking or more, enter your dates into the search engine now.
Available on the following dates; 12th, 15th, 19th, 20th, 21st, 22nd, 26th, & 29th of March, 2nd, 5th, 9th, 11th, 12th, 16th, 17th, 19th, 23rd, 24th, 25th, 26th, & 29th of April, most of May, and a handful of dates in June and August.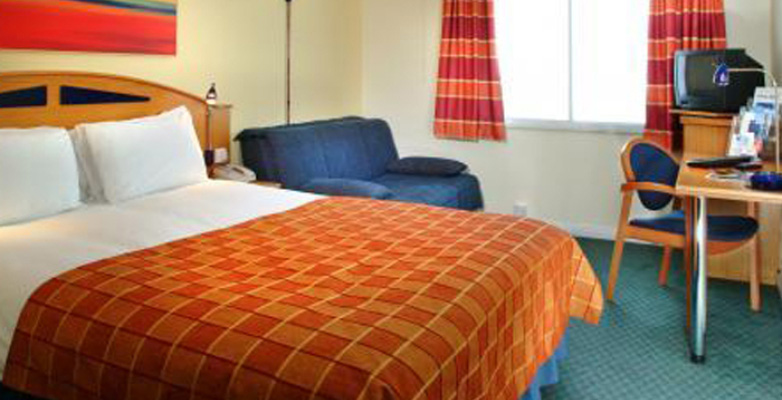 East Midlands Airport Hotel & Car Parking
When you book with Purple Parking, you can enjoy huge savings on our East Midlands Airport Hotels, with up to 70% off your airport parking and overnight stay at the Holiday Inn Express when you book them together.
Parking at Long Stay 1
If you choose to park at Long Stay 1, you will need to park at the Holiday Inn Express for your hotel stay, at a charge of £5.00 per car. In the morning, it's as easy as making the five minute drive to the Long Stay 1 car park, where you will need to catch the free transfer bus to the terminal. This should take around five minutes.
Parking at JetParks 2
This package includes parking from the morning of your flight at JetParks 2. For your hotel stay, you will need to park at the hotel for a charge of £5.00 per car. Register your vehicle when you check-in, and when you check-out, drive to JetParks 2. This car park is secured by CCTV, and has regular patrols. Your car stays there for the duration of your trip, so keep your keys.
The drive to the car park takes 5 minutes. From there, you need to catch the free shuttle transfer to your terminal, which should take around ten minutes. If JetParks 2 happens to be closed when you arrive, please park up in JetParks 1, which is just next door.
Full driving instructions will be sent with your booking confirmation email.
Rooms
The cosy guest rooms at the Holiday Inn Express include:
✓

TV

✓

Phone

✓

Tea and coffee facilities

✓

Work Desk

✓

Iron & Ironing Board

✓

Free WiFi
Check-in: from 2.00pm. Check-out: by 12pm
Breakfast and Dining
Restaurant
The Holiday Inn Express has an onsite restaurant called the Great Room, where they serve typical pub classics like burgers and fish & chips.
Breakfast
For breakfast, you can enjoy a full english and continental buffet, served in the Great Room. Free for all guests, fill up on a selection of items, such as eggs, bacon, pastries and juice.
Continental breakfast is served 4am-9.30am daily.
Full English buffet is served 6.30am-9.30am daily.
Accessibility
The Holiday Inn Express has the following accessible features:
✓

Accessible hotel entrance

✓

Accessible lifts

✓

In room visual alarms
Please contact us to request an accessible room.
Summary of the Holiday Inn Express at East Midlands Airport:
A cosy and simple hotel with a handy early breakfast.
Pros
Cons

✓

Cosy and comfortable rooms.

✗

Overnight hotel parking charge

✓

Breakfast included

✓

Close to the airport car park
Hotel Facilities
✓

90 en suite rooms

✓

1 Onsite Restaurant

✓

Dry cleaning

✓

Family rooms
*Prices correct at time of writing and subject to change.