Jurys Inn Hotel at East Midlands Airport
Jurys Inn Hotel at East Midlands Airport
★★★★
The Jurys Inn Hotel is a sleek and comfortable four-star with it's own onsite swimming pool, located only minutes from the terminal.
Jurys Inn is rated 8.2/10 by 4 customers. Read the reviews.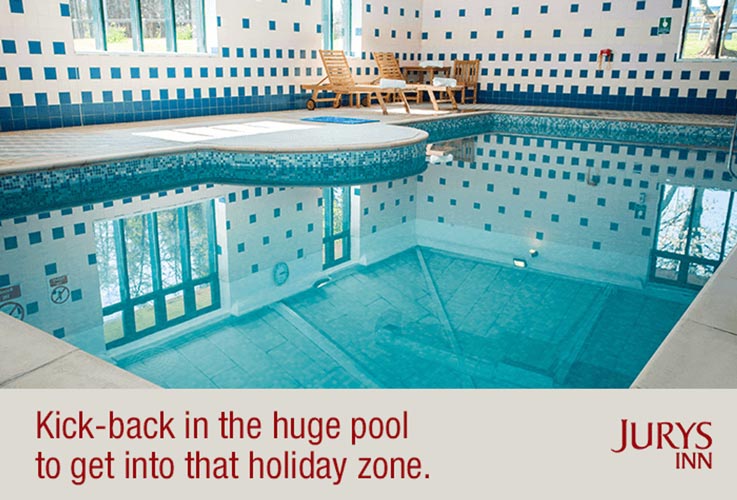 East Midlands Airport Hotel & Car Parking
If you're looking for the best value East Midlands Airport Hotels, then look no further than Purple Parking. You can save up to 70% off your overnight stay at an airport hotel. Furthermore, you can combine your room with your airport parking, into one easy package.
With this hotel, you can book a variety of parking options, so make sure you have a good look at what we have on offer to make sure you pick the best package to suit your needs.
Parking at the Hotel
With this package, you simply need to park up at the hotel and register your vehicle when you check-in. Keep your keys, as your car will not need to be moved for the duration of your trip. The Jurys Inn is a short, few minutes walk to the terminal, but if you'd prefer, reception can book you a taxi.
Parking at JetParks 2
If you choose to park your car at JetParks 2, you'll need to park your car in the JetParks 2 car park before your night at Jurys Inn. Catch the free shuttle bus transfer to the terminal, then walk the rest of the way to the hotel. It shouldn't take much longer than five minutes, and in the morning, simply head back to departures. If JetParks 2 happens to be closed, park in JetParks 1, which is just next door. Keep hold of your keys as your car won't be moved.
Full driving instructions will be sent with your booking confirmation email.
Rooms
The sleek rooms are a good size and come with:
✓

Complimentary toiletries

✓

TV with Freeview

✓

Free WiFi

✓

In room safe

✓

Air conditioning
Check-in: from 2.00pm. Check-out: by 12pm
Breakfast and Dining
Restaurant
The Jurys Inn has its own onsite restaurant called The Sherwood, themed with the local folklore of Robin Hood. It serves a wide variety of hot meals, including pizza, steak, pasta and salad, and children can from a dedicated kid's menu.
The restaurant is open Monday - Saturday: 6pm - 10pm, and Sunday 6pm - 9pm.
Breakfast
Breakfast is served in the onsite Sherwood restaurant. Select from both a full English and continental buffet.
Continental: Served weekdays 3.00am-10.00am, and 3.00am-10.30am weekends.
Full English served weekdays 7.00am-10.00am and 7.00am-10.30am weekends.
Furthermore, this hotel offers a grab and go service for those who don't have time to stop. You can enjoy tea, coffee, fruit and pastries in a takeaway package, available 3.00am-6.45am.
Accessibility
The Jurys Inn Hotel includes the following accessible features:
✓

Wider doorways

✓

Accessible lifts

✓

Accessible rooms with wet room bathrooms
For more information or to book an accessible room, please give us a call us in advance.
Things to Do
This hotel isn't short on ways to keep you entertained. Facilities include a laid-back bar, where you can kick-back with a cocktail after dinner, a heated indoor pool, steam room, jacuzzi and sauna. Make sure you remember to bring your swimming costume!
Summary of the Jurys Inn at East Midlands Airport:
A sleek hotel only moments from the terminal, with fantastic leisure facilities to help you unwind before your flight.
Pros
Cons

✓

Sleek and comfortable rooms.

✓

Fantastic leisure facilities

✓

Grab & go breakfast service
Hotel Facilities
✓

164 En-suite rooms

✓

1 Onsite restaurant

✓

1 onsite bar

✓

Free WiFi

✓

1 sauna

✓

1 indoor heated pool

✓

1 jacuzzi

✓

1 steam room

✓

350 car park spaces
*Prices correct at time of writing and subject to change.