The Priest House Hotel
The Priest House Hotel at East Midlands Airport
★★★★
The Priest House Hotel is a peaceful four-star, set amongst acres of countryside for you to explore.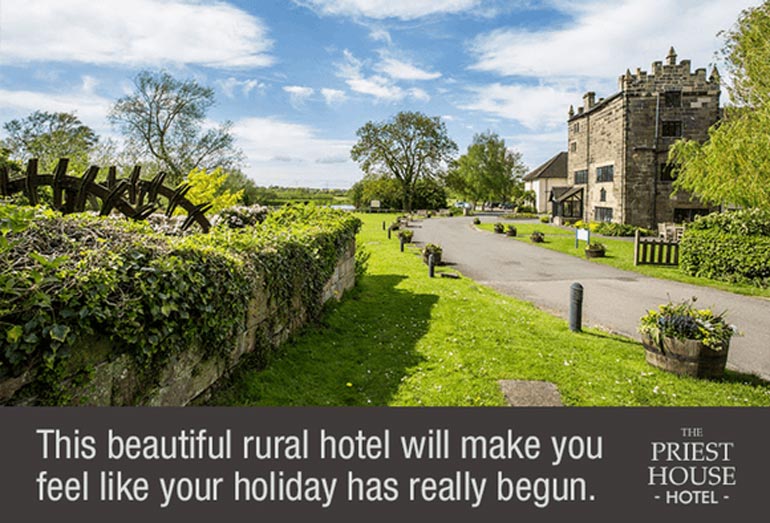 East Midlands Airport Hotel & Car Parking
For a touch of luxury at prices that won't break the bank, we at Purple Parking have a great range of four-star East Midlands Airport Hotels. What's more, when you combine your overnight stay with your airport parking, you can save even more!
Have a look below for more details on our various parking packages.
Parking at the Hotel
Park in the hotel's onsite car park and hand your keys to staff at reception when you check-in, as your car may need to be moved while you're away. In the morning, the hotel will book you a taxi to the terminal, which is included in the price of your parking.
Parking at Long Stay 1
Park overnight at the hotel during your airport stay - included in the price. In the morning, set off for Long Stay 1. This journey should take around five minutes, and once you've parked up, it takes another five minutes to reach the terminal via a free transfer bus provided by the car park.
Parking at JetParks 2
If you want to park at JetParks 2 while you're away, you will need to park at the hotel on the night of your stay. But don't worry, this is included in the price! When you check-out in the morning, drive to JetParks 2, which should take about ten minutes. Then, all you'll need to do is hop on the free shuttle bus to the terminal, which should take another 10 minutes. Please note, if JetParks 2 happens to be closed when you arrive, you will need to park in JetParks 1, which is just next door.
Full driving instructions will be sent with your booking confirmation email.
Rooms
The clean and comfortable rooms at the Best Western Premier Yew Lodge come with:
✓

TV with Freeview

✓

Hairdryer

✓

Tea & Coffee making facilities

✓

Iron & ironing board

✓

Phone

✓

24-hour room service

✓

Bottled water

✓

Free WiFi
Guests say the WiFi is an excellent speed, and it is free to use throughout the hotel. However, the phone signal isn't very strong.
Check-in: from 3.00pm. Check-out: by 11am
Breakfast and Dining
Restaurants
Priest House has two restaurants to choose from. The Fine Dining restaurant is a more formal setting to enjoy a range of contemporary cuisine, and an extensive wine list. An average main from their a la carte menu costs £20. They also have The Brasserie, serving up pub classics in a more relaxed atmosphere. An average main costs £12, and it can get quite busy, so we recommend you book a table when you check-in.
The Fine Dining restaurant is open Monday to Saturday 7pm - 9.30pm, and Sunday7pm - 9pm.
The Brasserie is open every day 10am - 9.30pm.
Breakfast
Breakfast at the Priest House Hotel is cooked to order table service. Guests often comment on how delicious the breakfast here is. There is also a cold continental buffet, including pastries, fruit, cheese and freshly baked breads. Breakfast costs £15 per person.
Breakfast is served 7am - 9.30am on weekdays, and 8am - 10am weekends..
Accessibility
The Priest House Hotel has accessible rooms, and the hotel itself has the following accessible features:
✓

Accessible hotel entrance

✓

Accessible public areas and toilets.
For more information or to book an accessible room, please contact us in advance.
Things to Do
The Priest House Hotel is in a stunning countryside location. You can take advantage of its setting by exploring the many acres of land, or even use one of the hotel's fabulous 'Gym in a Bag' or 'Yoga in a Bag' packs. You can set up your own work out session wherever you like!
Summary of the Priest House Hotel at East Midlands Airport:
A comfortable, rural hotel surrounded by acres of countryside, with a great variety of dining options.
Pros
Cons

✓

Two restaurants to select from

✗

Breakfast not included

✓

Taxi to the terminal included

✗

✓

Beautiful surroundings

✗
Hotel Facilities
✓

42 En-suite rooms

✓

2 Onsite restaurants

✓

Free WiFi

✓

Room service
*Prices correct at time of writing and subject to change.