Hampton by Hilton at Edinburgh Airport
Hampton by Hilton at Edinburgh Airport
★★★
Situated within moments of the terminal, get a great night's sleep, fill up on a delicious free buffet breakfast and walk to departures ready to fly!
☆ Hampton by Hilton at Edinburgh Airport - Reduced Rates ☆
Your timing couldn't be better - our reduced rates for hotel and parking packages at the Hampton by Hilton have just gone live. If you want to book a night's parking and 8 day's parking or more, you can access our lower prices now. Enter your details into the search enginge to star saving.
Valid on all package bookings at the Hampton by Hilton with parking for 8 days or more.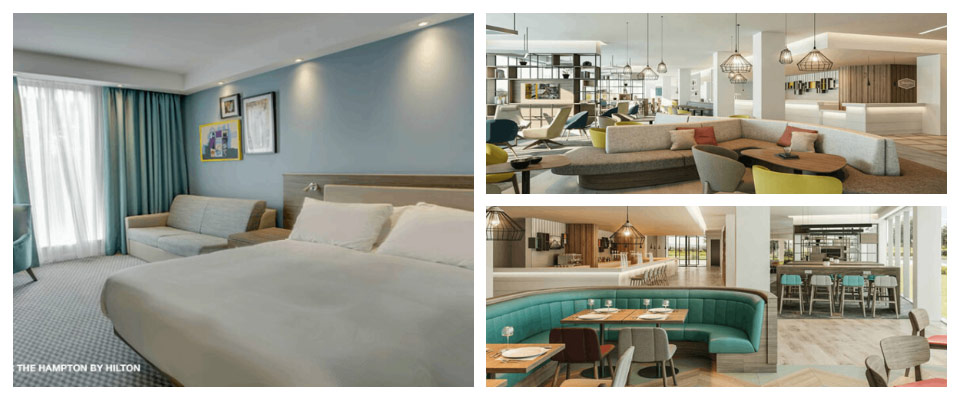 Edinburgh Airport Transfers and Hotel Parking
Save big with our room and parking packages at our Edinburgh Airport Hotels. We can offer two room and airport parking packages at Edinburgh Airport with the Hampton, one with PremiAir Parking and one with Maple Parking. Read on to find out more about the different services.
PremiAir Parking
When you arrive at Edinburgh Airport, head to the PremiAir car park first. Park in any available bay, keep hold of your keys and head to the closest bus stop. Hop onto the shuttle transfer, and tell the driver you're staying at the Hampton by Hilton. They'll drop you off at a bus stop directly opposite, so you'll simply need to stroll over to the hotel! The buses run every three minutes, takes ten minutes, and are included in the price. After your great night's sleep, you can walk to the terminal via a covered walkway, and be there within two minutes. When you've returned from your trip, catch the bus from bus stop 6 back to the car park, and you're good to go!
Maple Parking Meet & Greet
For a touch of the VIP experience, meet & greet is perfect. Head to the Hampton by Hilton for your overnight stay first and park your car at the hotel for £12.00. When you're ready to fly, drive to the car park opposite the terminal, where a friendly and professional Maple Parking driver will meet you. Hand over your keys and make the 2 minute walk to departures, while the car park staff park your vehicle for you in a safe and secured space.
Rooms
The modern and comfortable guest rooms at the Hampton by Hilton include:
✓

Free WiFi

✓

Tea & coffee facilities

✓

Iron

✓

International plug sockets

✓

55 inch TV.

✓

Usb ports beside bed

✓

Hairdryer

✓

Free toiletries
Check-in: from 3pm. Check-out: by 11am
Breakfast and Dining
Restaurant and Bar
The Hampton by Hilton has an onsite restaurant and bar thats open every day from 11am - 11pm. Serving up a variety of dishes in a casual dining atmosphere, they cater to plenty of diets including vegan, vegetarian, gluten and dairy-free. Ask a member of staff when you arrive for information and recommendations. When you've filled up on their delicious food, head to the bar for a quick drink, open 10am - 11pm daily.
Breakfast
All guests staying at the Hampton by Hilton can take advantage of the free buffet breakfast, with a huge variety of both continental and cooked breakfast items on offer. For those who don't have time to stop, they also offer a grab and go option, so you can head off to the airport full and ready to face the day. Breakfast is served 5am - 10am daily.
Accessibility
This hotel is accessible and includes the following:
✓

Accessible parking bays

✓

Accessible lifts

✓

Accessible toilets

✓

Hearing Loop

✓

Walk-in showers

✓

In-room grab bars

✓

In room accessible alarm systems

✓

Service dogs welcome
To book an accessible room, please request one after booking.
Summary of the Hampton by Hilton:
A modern and comfortable hotel with a small gym and free breakfast, moments from the terminal.
Pros
Cons

✓

Two minute walk to the terminal

✗

Charge for overnight parking

✓

Breakfast included

✗

✓

Free WiFi

✗
Hotel Facilities
✓

240 Rooms

✓

1 Onsite Bar and restaurant

✓

1 fitness studio

✓

Onsite parking
*Prices correct at time of writing and subject to change.