Hilton Hotel Terminal 4
Hilton Terminal 4
Nothing is as convenient as the Hilton T4, which is connected to Heathrow's Terminal 4 via a covered walkway. Not only that, this 4 star hotel comes with some excellent amenities too, including an indoor pool and a 24 hour gym.
You aren't short of choices for places to dine in, either - the Hilton Terminal has not one but three different restaurants including an Italian and Chinese restaurant. Experience true comfort at this Heathrow Airport hotel.
Hilton T4 is rated 9/10 by 11 customers. Read the reviews.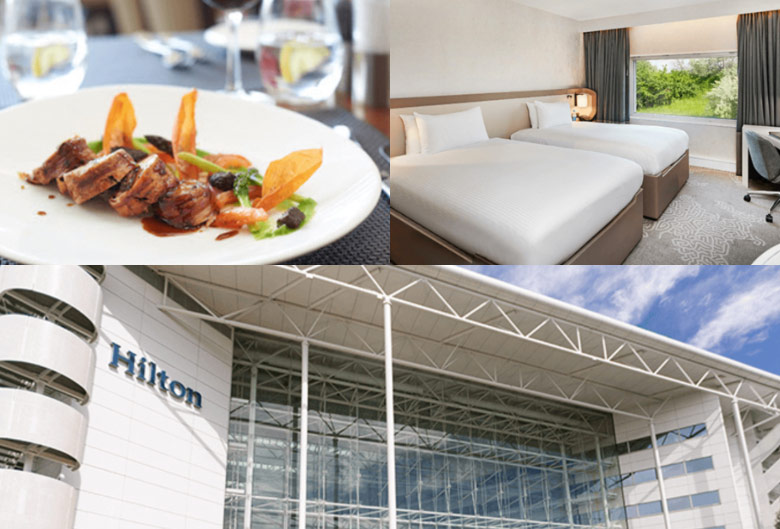 Heathrow Airport Transfers and Parking
The package on offer at the Hilton Terminal 4 is: Parking at the Hotel.
Parking at the Hotel includes parking at the Hilton T4 for the whole for your holiday; the Hilton's car park is secure, with CCTV and floodlighting. We recommend that you drop your bags at reception before looking for a car parking space.
Getting to the Airport:
From the Hotel: is easy peasy as the Hilton T4 is connected to T4 by a walkway; it is a 5 - 10 minute walk to Departures from the hotel. If you are heading to another terminal, the Heathrow Express train is free between all terminals and is on the left hand side as you walk into T4. The Heathrow Express runs every 15 minutes.
Rooms
Experience a stay like no other - with views across the runway (but no noise, thanks to the triple-glazed windows) and plush interiors, this truly is a luxurious stay. Each of the Hilton T4's 398 rooms comes with their on ensuite bath or shower with complimentary aromatherapy toiletries. There's also climate control and a large flat screen TV with satellite channels.
Rooms come with: an ensuite bathroom, 42" TV, WiFi (£14.99 cost), mini bar, iron, climate control, hairdryer, safe, iron, tea & coffee and room service (£5.00 tray charge).
Check-In: from 3.00pm. Check-out: by 12.00pm.
Dining
Three restaurants reside at the Hilton Terminal 4: Aromi, Oscar's and Zen Oriental.
Enjoy a taste of traditional Italy at Aromi, with mains costing £20.00 on average. Fresh pizza and pasta are made every day, available from 6.00pm - 10.00pm daily (except Sundays). A continental breakfast is served daily in Aromi from 5.00am too.
Oscar's has an extensive international menu on offer, with tasty dishes such as mac & cheese, fresh salads, chicken tikka masala and fish & chips on offer. Mains cost £15.00 on average. For both Oscar's and Aromi, kids aged 10 and under eat for free with a paying adult.
Zen Oriental is a Chinese restaurant which is well loved by our guests. It is very much a fine dining experience, so you can expect to pay £70.00 per person for a main dish as well as drinks.
Accessibility
The Hilton is fully accessible, with accessible parking and transport available, as well as ramps, lifts, accessible rooms and an accessible pool and spa.
Summary of the Hilton Terminal 4:
A sophisticated and luxurious 4 star hotel connected to Heathrow Airport's Terminal 4.
Pros
Cons

✓

Departures are a 5 minute walk away

✗

WiFi is expensive

✓

Three superb restaurants

✗

Some rooms can be on the small side