Holiday Inn Express Terminal 4
Holiday Inn Express T4
Situated at Heathrow's Terminal 4, the Holiday Inn Express T4 comes with a free breakfast and free WiFi. It's also connected to Terminal 4 via a covered walkway. If you're departing from another terminal, you can get there by the free Heathrow Express.
An affordable 3 star name you can trust, this Heathrow hotel is directly connected to Terminal 4 and boast 457 air conditioning rooms with all the latest mod-cons. The on-site Express Bar & Cafe is open all day for food.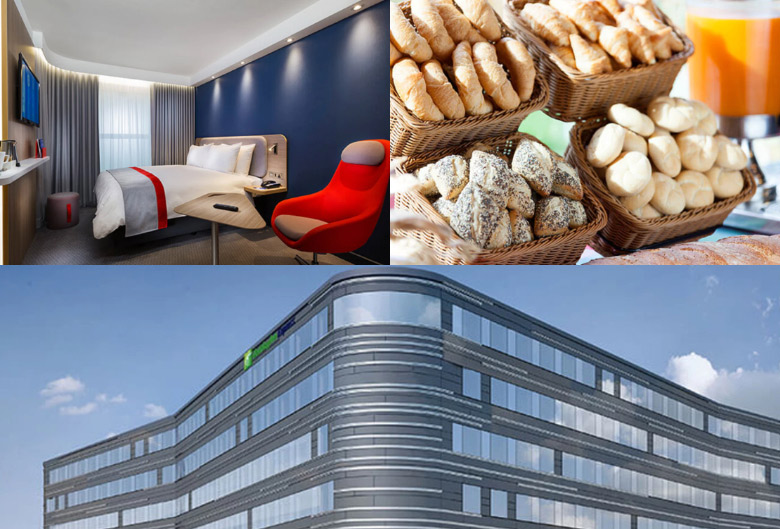 Heathrow Airport Transfers and Parking
The package on offer at the Holiday Inn Express T4 is: Blue Circle Parking Meet and Greet Parking.
Blue Circle Parking Meet and Greet includes Blue Circle Parking Meet and Greet. All you need to do is drop your car off at Blue Circle Parking where your very own driver will be waiting to park your car for you. Blue Circle Parking is located at the terminal.
Getting to the Airport:
From the Hotel: you can walk to Terminal 4! The Holiday Inn Express is connected to T4 via a covered walkway.
Rooms
Guest rooms are modern, coming with blackout curtains, a pillow menu, climate control, work desks, free WiFi and 49" smart TVs.
Rooms come with: free WiFi, air conditioning, black out curtains, pillow menu, iron & ironing board, ensuite bathroom, hairdryer, flat screen TV, phone, tea & coffee maker.
Check-In: from 2.00pm. Check-out: by 11.00am.
Dining
There's one on-site eatery at this hotel, the Express Bar and Cafe which serves food all day. In the morning, you can enjoy a tasty Express Breakfast buffet from 5.00am - 10.00am.
The hotel is also connected to the Crowne Plaza T4, so you can head there to enjoy their array of bars and restaurants if you're after a big lunch or evening meal.
Accessibility
The Holiday Inn Express T4 has accessible lifts, toilets, rooms, ramps, visual alarm/alerts.
Summary of the Holiday Inn Express:
An impressive 4* hotel close to Heathrow Airport that boasts ultra luxurious facilities, including its own sky garden with an indoor pool.
Pros
Cons

✓

Free WiFi

✗

Overnight parking at the hotel is £20.00

✓

Free breakfast