Park Inn Heathrow
Park Inn Heathrow
One of the biggest Heathrow Airport Hotels, the 4 star Park Inn Heathrow is affordable convenience with simple and quick Heathrow transfers. Enjoy views of the runway, a spa and a swimming pool.
This Heathrow Airport hotel is particularly suited for families with its big swimming pool, kids play areas and two welcoming restaurants - children aged 8 and under eat free too!
Park Inn is rated 8.2/10 by 28 customers. Read the reviews.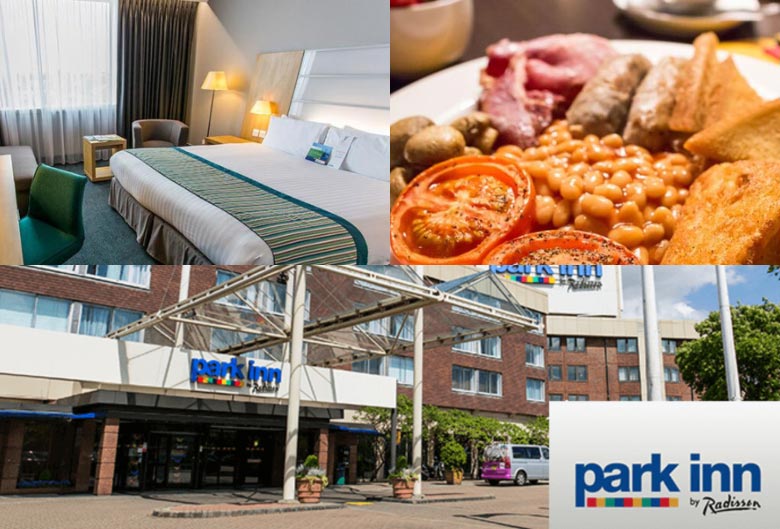 Heathrow Airport Transfers and Parking
The package on offer at the Park Inn Hotel Heathrow is: Parking at the Hotel.
Parking at the Hotel includes parking at the hotel for the whole time you're away in the highly-secured car park. Choose a parking bay and head to reception to register your car; you can keep your keys.
Getting to the Airport:
Hop aboard the Heathrow Hoppa Shuttle bus which regularly goes from the hotel to T2, T3 and T5 from 5.00am - 11.30pm. Please note that the bus stops at other hotels along the way so we advise that you allow yourself an extra 30 minutes to get to the terminal.
For T2 and T3:
From T2 and T3, you need to get the H3 or H8 buses. The first bus from T2 is at 4.27am, running every 20 - 30 minutes until 11.47pm. The first bus is from T3 is at 4.22am running every 20 - 30 minutes until 11.42pm.
For T4:
The Hoppa does not run to T4 from this hotel; instead, you will need to get the Hoppa to T2 and catch the free Heathrow Express to T4.
For T5:
You will need to catch the H54 bus. They run from 5.11am every half an hour until 11.41pm.
Tickets bought in advance cost £4.50 for a single, and £8.00 for a return. Bought on the day, tickets cost £5.00 for a single and £9.00 return. Two children under 15 can travel free with a paying adult.
Rooms
With over 900 rooms (and seven miles of corridors!), the Park Inn Heathrow is one of the airport's biggest hotels. Due to its size, the hotel is abundant with family rooms so this is a great choice if you're travelling with a young family.
All rooms are trendy, bright and spacious. Rooms come with: fast free WiFi, flat screen TV, hair dryer, free Dove toiletries, safe, room service (£3.50 tray charge).
Check-In: from 2.00pm. Check-out: by 12.00pm.
Dining
There are two restaurants located at the Park Inn: RBG Grill and The Lounge.
If you're travelling with the kids then this will be music to your ears - children aged 12 and under eat for FREE at the RBG restaurant. This exclusive deal cludes a main dish, two side dishes and a dessert. The specially designed children's menu by child nutritionist Annabel Karmel includes grilled chicken, spaghetti bolognese, pizza and more. For the adults, you can expect dishes such as steaks, gourmet burgers and pastas. The average main costs £15.00. RBG is open from 5.30pm - 10.30pm daily.
The Lounge Bar is ideal if you're after something more laid back, with things such as burgers, pizza, pasta and salads on offer. Main meals cost around £12.00. The Lounge Bar is open from 6.00am - 1.00am.
Accessibility
The Park Inn is accessible, with an accessible hotel entrance, toilets and lobby. Accessible rooms come with wider doorframes, lowered facilities, grab bars, and adapted controls.
Summary of Park Inn by Radisson Heathrow:
One of Heathrow's biggest hotels, the Park Inn offers 4 star premium convenience and comfort.
Pros
Cons

✓

Great location close to Heathrow

✗

Outdated decor in places

✓

Good customer service

✗

Check-in online if you can as guests have reported long check-in queues