Ash Barn Annex Stansted
Ash Barn Annex (formerly Warmans Barn)
Situated 5 miles and only 10 minutes' drive from Stansted Airport, Ash Barn Annex (formerly known as Warmans Barn) provides affordable comfort in tranquil, rural surroundings. If you're on a budget and looking for somewhere with a bit of character, then this is a great option as a Stansted Airport Hotel. It gives you a taste of the country whilst being on the doorstep of the terminal.
The rooms at Ash Barn Annex all have their own entrances, as well as private terraces. Situated in the village of Burton End close to Stansted Airport, they are part of a beautiful converted barn. The 17th century thatched pub, the Ash Inn opposite is ideal for a relaxing drink and evening meal.
Ash Barn Annex is rated 7.8/10 by 4 customers. Read the reviews.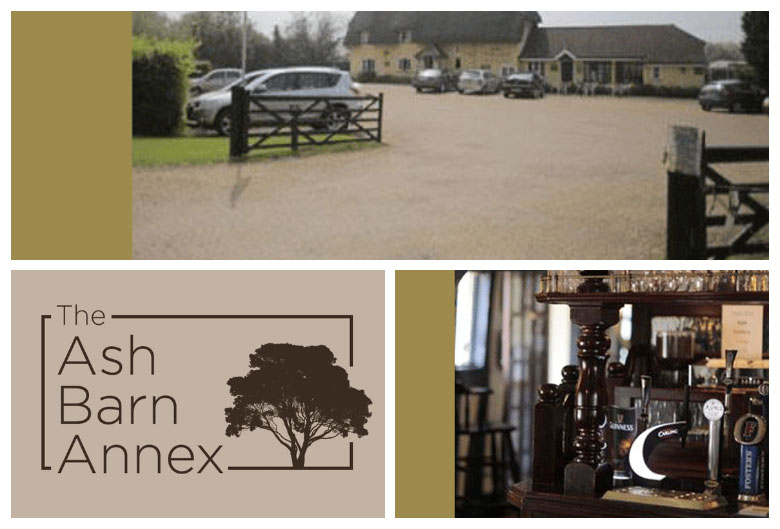 Stansted Airport Transfers and Parking
The packages on offer at Ash Barn Annex are for room only, as well park and stay with on site parking.
The Park and Stay option includes on site parking at the hotel for the duration of your holiday. You simply park when you arrive and keep your keys with you. Your car won't be moved while you're away.
Getting to the Airport:
From the Hotel: The terminal at Stansted Airport is a 10 minute drive away. A taxi can be pre-booked by Reception in the Ash Inn opposite. Fares cost £14.00 each way (up to 4 people travelling in a taxi). When you land back at Stansted, simply take a taxi back to the hotel to collect your car.
Rooms
Rooms at the Ash Barn Annex are simply furnished, but comfortable and clean.
Rooms come with: ensuite bathroom,TV, free WiFi, a tea & coffee maker, as well as an alarm clock. Hairdryers are available on request.
Check-In: from 12.00 noon until midnight. Check-out: by 11.00am.
Dining
Although there isn't an on site restaurant, the picturesque 17th century thatched pub, the Ash Inn, is conveniently located opposite the rooms. As well as doubling up as the hotel reception, it is also open daily from 11.00 am, serving food until 9.30 pm. It offers a wide range of hearty English pub cuisine, as well as a fantastic range of cask ales and other alcoholic beverages. If you are staying over a weekend, then you can also enjoy a continental in the inn on Saturdays and Sundays. You simply pay for this when you eat.
Accessibility
As all rooms are situated on the ground floor, they are easily accessible for those with limited mobility.
Summary of Ash Barn Annex, Stansted
An affordable budget hotel that's only 10 minutes from Stansted Airport.
Pros
Cons

✓

Free WiFi

✗

Room facilities are comfortable, but basic

✓

Hotel has its own on site parking

✗

Transfer to and from airport is not included in price.