Radisson Blu Stansted
Radisson Blu Stansted
Get a taste of the high life with the opulent 4 star Radisson Blu Hotel at Stansted Airport. Situated right next to the terminal, enjoy two fine restaurants, a bar that comes with its own acrobatics displays, and a health club.
If you're a lover of the finer things in life, you're going to love the food and impressive amenities at this chic and elegant Stansted Airport hotel.
Radisson Blu is rated 8.6/10 by 29 customers. Read the reviews.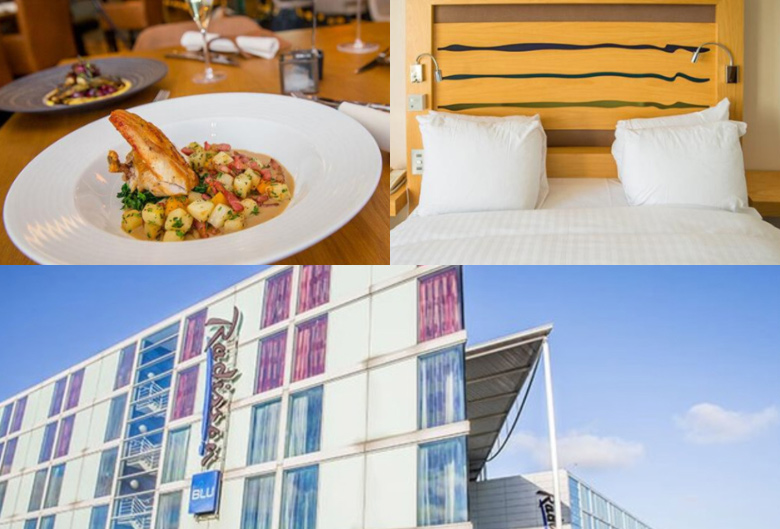 Stansted Airport Transfers and Parking
The package on offer at the Radisson Blu London Stansted is: Secured Parking.
Secured Parking at the Hotel: includes secured parking for the entirety of your trip. You will need to hand your keys over as your car may need to be moved to a secured off-site car park, but will be returned to the hotel when you arrive back. The car is secured by CCTV and floodlighting.
Getting to the Airport:
From the Hotel: it's only a 3 minute walk to the terminal via an undercover outdoor walkway!
Rooms
The Radisson Blu Stansted's rooms all come with sophisticated themed decor, and are very spacious - they're 25m squared to be precise! Room themes fall under Ocean, Urban and Chile. Kids aged 16 and under also get to stay for free when sharing a room with their parent(s). You can also opt to have fantastic runway views too.
Rooms come with: free fast WiFi, TV, hairdryer, mini bar, safe, 24 hour room service, tea & coffee making facilities.
Check-In: from 2.00pm. Check-out: by 12.00pm.
Dining
The Radisson boasts two amazing restaurants: Collage and Station 169.
Collage Restaurant serves traditional British dishes with the best local ingredients; meals include steaks, burgers and chips and beer-battered fish & chips. Mains cost around £15.00 on average. Under 12s also get to eat for free when an adult eats a full price meal. We recommend booking a table in advance. The Collage Restaurant is open from 6.00pm - 10.30pm daily.
Station 169 is a great steakhouse - which includes a fancy show kitchen and mood lighting to enhance your dining experience. The steakhouse does also serve non-steak dishes, but this may be limiting if you're a vegetarian. Mains cost around £27.00 on average and it's best to book a table in advance. Station 169 is open from 6.00pm - 10.30pm daily.
There's also the Wine Tower Bar which is a 42ft tower that has 4,000 bottles of wine! You can also enjoy light meals here too, with sandwiches starting from £6.50. The bar is open from 7.00am - 1.00am daily, and food is served from 10.30am - 11.00pm daily.
Breakfast is served from 4.00am onwards and is a Full English and continental buffet which is £12.95 per person. Breakfast is served in the collage restaurant, and under 12s get to eat for free. If you're in a rush, you can have the Grab & Run takeaway breakfast - which comes with takeaway tea & coffee, fresh fruit & energy bars.
Accessibility
The Radisson Blu is accessible, with: ramps, lifts, accessible toilets and lobby, walk-in showers, grab bars, lowered surfaces, emergency pull cords, wider door frames, audio and visual warnings.
Summary of the Radisson Blu Stansted
An impressive and affordable 3* hotel connected to Stansted Airport, with free WiFi and free breakfasts.
Pros
Cons

✓

Connected to the terminal

✗

Check-in can be busy

✓

Impressive restaurants and bar