Ramada London Stansted Airport
Ramada Stansted
The comfortable 3 star Ramada Stansted is only 10 minutes from the terminals and offers the ultimate convenience, with its own currency exchange and grocery service.
Expect comfortable rooms, an affordable restaurant and free overnight parking at this super convenient Stansted Airport hotel.
The Ramada is rated 7.2/10 by 6 customers. Read the reviews.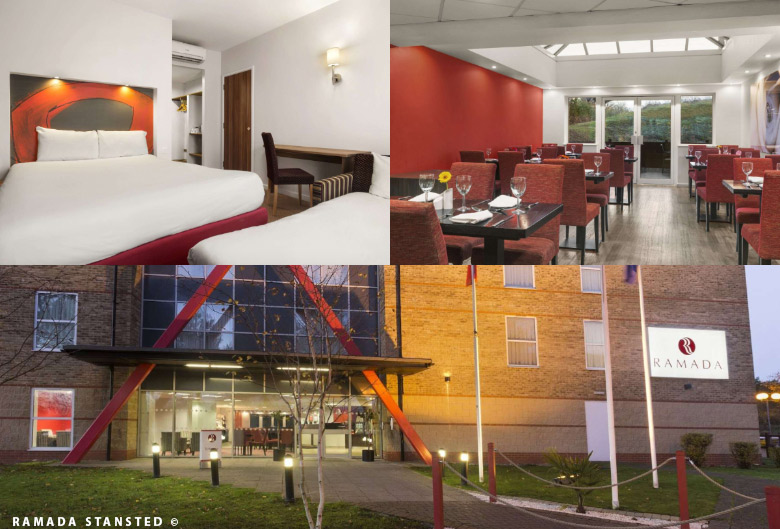 Stansted Airport Transfers and Parking
The packages on offer at the Ramada Stansted are: Parking at Long Stay Parking, Mid Stay Parking and Meet and Greet Parking.
Parking at Long Stay includes parking at the Long Stay for the entirety of your trip; overnight parking at the hotel is included. On the morning of your flight, drive to Long Stay which is 6 minutes away.
Mid Stay Parking includes parking at the nearby Mid Stay car park (overnight parking at the hotel is included) which is a 7 minute drive away. On the morning of your flight, drive to Mid Stay and hop on the airport shuttle bus.
Meet and Greet Parking includes Meet and Greet parking (overnight parking at the hotel is included). Drive to the designated lane for Meet and Greet parking the next morning, where a chauffeur will park your car for you.
Getting to the Airport:
From Long Stay: get on the shuttle bus, which takes 15 minutes to get to the airport (included in price).
From Mid Stay: hop aboard the shuttle bus which takes 7 minutes which is also included in the price.
From Meet & Greet: it's only a short walk to the terminal.
Rooms
Rooms at the Ramada are modern and comfy to ensure you get a good night's sleep - and this even includes triple glazed windows. Overall, rooms are clean and practical.
Rooms come with: an en-suite bathroom with showers, WiFi, TV, safe, air conditioning and a hair dryer.
Check-In: from 2.00pm. Check-out: by 11.00am.
Dining
The Ramada's on-site restaurant has a great atmosphere alongside a great menu. Expect wholesome grub such as gourmet burgers, pasta and salads. If you fancy something else, you can head to the service station nearby where there are a host of different restaurants.
For breakfast, there's a Full English and continental breakfast buffet in the mornings for £7.95 per person. Breakfast is served from 6.00am - 10.00am during the week and from 7.00am - 11.00am at the weekend.
Accessibility
The Ramada Hotel Stansted is accessible, with: ramp access, lifts and accessible rooms. Accessible rooms have baths. Please call us before you book if you require an accessible room.
Summary of the Ramada Stansted
An affordable budget hotel that's only 10 minutes from Stansted Airport.
Pros
Cons

✓

Airport transfers included

✗

Restaurant can be busy at peak times

✓

Transfers are free

✗

Some rooms are dated