Purple Parking NHS Discount Codes
Purple Parking NHS Discount Code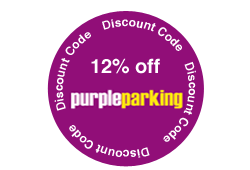 Do you work for the NHS? Treat yourself to 12% off your Purple Parking booking. Compare reduced airport parking deals by entering your information into our search engine.
For even more savings on airport parking and extra cash to splash on your holidays, look no further! We're proud to offer up to 12% off for health service workers on our airport parking deals when you use our NHS discount - in addition to our normal savings of up to 70%!
You don't need to remember any promo codes with Purple Parking. Instead, simply choose your airport and pick your dates in our search engine on the left and we'll show you all available parking deals with your NHS discount automatically applied. Our search engine takes the hassle out of comparing the best deals. You'll be able to view our parking packages side-by-side and see exactly what you're saving!
Purple Parking Discount Code NHS

Airport Parking

NHS Discount

Discount price with Purple Parking

Purple Parking Gatwick

10%

£30.59

Purple Parking Heathrow

12%

£47.48

Gatwick Parking

10%

£26.78

Manchester Parking

10%

£35.99

Stansted Parking

10%

£38.69

Luton Parking

12%

£30.79

Heathrow Parking

12%

£43.12

Birmingham Parking

12%

£18.88

Bristol Parking

12%

£37.83

Glasgow International Parking

12%

£34.31

East Midlands Parking

12%

£29.03

Liverpool Parking

12%

£24.64

Leeds Bradford Parking

12%

£29.04
With Gatwick parking deals for both North and South terminal, you won't be short on options. From our budget Park & Rides, to our nice and easy Meet & Greets, you can save up to 10% with your NHS discount across a range of parking options.
Get an extra 10% off today on your Manchester Airport parking with our NHS discount code, with huge savings on official car park packages like JetParks and Long Stay available.
Make the most of your NHS discount on Stansted Airport parking by saving an extra 10% when you book through Purple Parking. Select between the best deals on official car parking, like JetParks, Long Stay, Short Stay & Mid Stay.
For Heathrow airport parking to suit your budget, whatever the terminal, you can grab up to an extra 12% off our parking packages with your extra NHS discount! From nice and easy Meet & Greets, to straightforward Park & Rides, enjoy fuss-free booking - and extra cash in your pocket!
Finding the best deal on parking at Luton airport has never been easier! With Purple Parking, you'll be saving up to 12% on Park & Rides and Meet & Greets when you book with our NHS discount - on top of our already huge savings of course!
Our range of super convenient and easy parking options at Bristol airport will seem even better with your extra 12% NHS discount! From Meet & Greet parking, to Long Stay, SilverZone & Premier parking, enjoy a huge range of options when you book with Purple Parking.
Selecting airport parking at Birmingham airport has never been easier! Booking with Purple Parking means you can choose from a huge range of airport parking packages, as well as make huge savings with your extra NHS discount!
Enjoy extra pounds in your pocket with Purple Parking's NHS promo code for an extra 12% off Edinburgh airport parking! Select from a huge range of options, such as Maple Manor and Secure Airparks.
Purple Parking Email Offers
To keep up with our fantastic range of exclusive discounts and deals, sign-up to our newsletter today. Take the time and fuss out of searching for the best travel deals and let us find them for you, with our best offers emailed directly to you. We will only send offers relevant to you and the airports you use. Simply type your email into the newsletter box at the bottom of the page, sit back, and wait for the best deals to come to you!
Terms and Conditions
*12% is calculated on 10% discount + 2% booking fees which are excluded when booking through this discount page.
Discounts are available for airport parking, airport hotels, airport lounges and travel insurance bookings with the following exceptions: Latitude travel insurance policies, official airport parking at Heathrow, Stansted, London City, Luton, Glasgow or Aberdeen airports, on-airport parking at Gatwick, Birmingham and Exeter, Airparks sale items at Belfast City and Luton, Newcastle on-Airport promotional products, Newcastle Airparks Supersaver, Official Valet Parking Gatwick and Heathrow Meet & Greet parking. Airport lounge discount is available on UK lounges only. Champagne is excluded from FREE drinks in all airport lounges.
All bookings are subject to availability and offers may be withdrawn or changed without notice.
This offer does not apply to bookings you have already made with us, only to future bookings.