Premier Inn London Stansted Airport
Premier Inn Stansted
At the 3 star Premier Inn Stansted expect great prices alongside great rooms with stylish interiors and all the essentials you need. On top of this, the hotel is situated right next to Stansted Airport, so you don't have very far to travel!
Having a taste of luxury on a budget is possible with the Premier Inn, a Stansted hotel with peaceful big rooms, free WiFi, on-site restaurant and more.
Premier Inn Stansted is rated 8.6/10 by 20 customers. Read the reviews.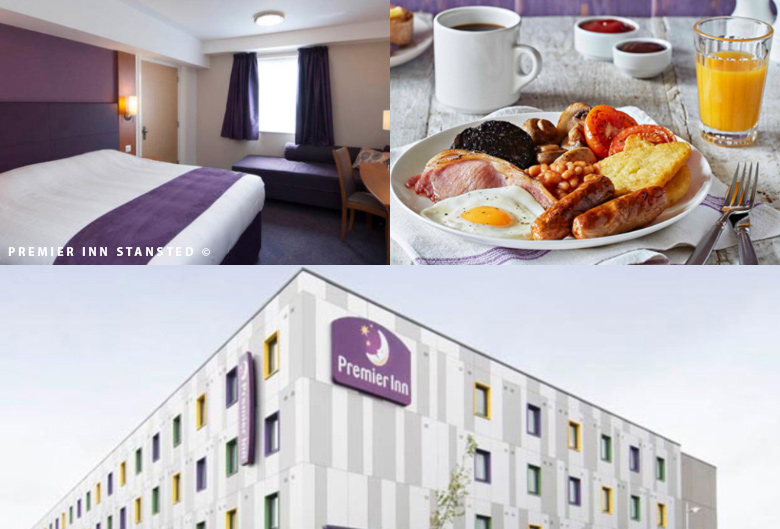 Stansted Airport Transfers and Parking
The packages on offer at the Premier Inn near Stansted are: Parking at Long Stay Parking, Mid Stay Parking and Meet and Greet Parking.
Parking at Long Stay includes parking at the Long Stay car park for the whole of your holiday. From the Long Stay car park, it's a 15 minute bus ride to the terminal.
Mid Stay Parking includes parking at the nearby Mid Stay car park (only 5 minutes away). From Mid Stay, it's a 7 minute bus ride to the airport.
Meet and Greet Parking includes parking with Meet and Greet parking (overnight parking at the hotel is £8.00). On the morning of your flight, drive to the Meet and Greet car park at the airport; you can walk to the terminal from there in a few minutes.
Getting to the Airport:
From Long Stay: hop aboard the shuttle bus, which takes 15 minutes (included in price).
From Mid Stay: jump on the shuttle bus, where it's a 7 minute ride to the airport (included in price).
From Meet & Greet: you can walk to the terminal in just a few minutes.
Rooms
Considering the Premier Inn has such an affordable price tag, rooms are far from being budget! Expect jazzy interiors, plush Hypnos beds and triple-glazed windows. Rooms are able to accommodate up to two adults and two children.
Rooms come with: an en-suite bathroom, WiFi, kettle, radio, phone, and TV.
Check-In: from 2.00pm. Check-out: by 11.00am.
Dining
Located at the Premier Inn Stansted is the Thyme Restaurant which serves up succulent burgers, steaks, pizzas, curries, salads and a myriad of desserts. There's also a kid's menu as well.
You can also enjoy a breakfast - choose from either continental (£8.50) or the full Premier Inn Breakfast (£10.50). Did you know that up to two children under 16 get eat breakfast for free when one adult orders the Premier Inn Breakfast?
The restaurant is open for breakfast from 5.00am - 10.00am, and open for dinner from 5.00pm - 10.30pm.
Accessibility
The Premier Inn London Stansted Airport has accessible rooms, a lift and an accessible entrance. There are also Blue Badge parking spaces right outside the hotel entrance. Please call us before you make a booking if you require an accessible room.
Summary of the Premier Inn Stansted
An affordable budget hotel that's only 10 minutes from Stansted Airport.
Pros
Cons

✓

Great on-site restaurant

✗

Check-in can be busy at peak times

✓

Transfers are free

✗

No air conditioning