Copthorne Effingham
Copthorne Hotel Effingham
Nestled in 40 acres of pastures, the 4 star Copthorne Effingham Hotel near Gatwick is worlds away from the usual hustle and bustle of an airport - there's even a 9 hole golf course, tennis courts, a gym and a restaurant.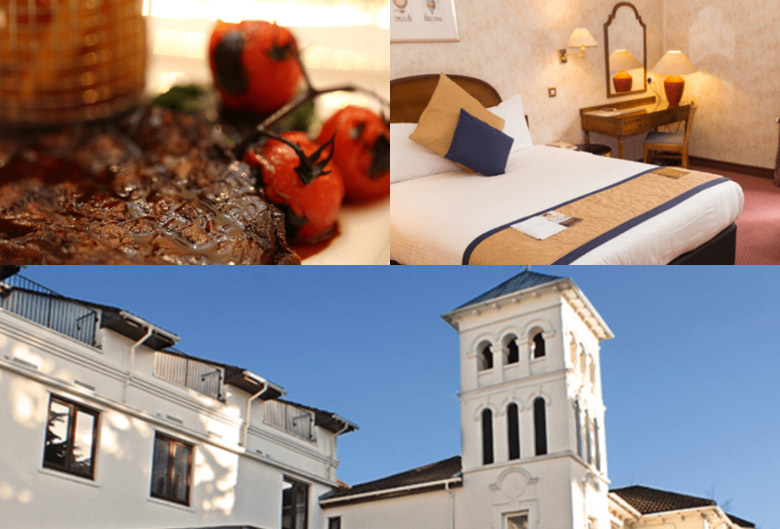 Ideal if you're after a little bit of peace and quiet, this grand hotel has fantastic leisure facilities and has an overall homely feel. Rooms are also bigger than those at most other Gatwick Airport hotels, and can fit all your family (and luggage) in.
Gatwick Airport Transfers and Parking
The package on offer at the Copthorne Effingham is: Parking at the Hotel.
Parking at the Hotel includes parking at the Copthorne Effingham for the whole time you're away, and you can rest assured your car's in safe hands as the car park has CCTV. Make sure you hand your keys over to reception just in case your car needs to be moved while you're away.
Getting to the Airport:
From the hotel, you need to get the shuttle bus to the airport. The journey takes 10 minutes to the South Terminal and 15 minutes to the North Terminal .
The bus runs at every 15 minutes past the hour between 4.15am and 11.15pm. Adult tickets cost £5.50, and one child (aged 14 and under) travels for free when there's two paying adults.
Outside of the shuttle bus' running hours, you can catch a taxi for£11.00 - £13.00 per car.
Rooms
Relax and unwind in one of the Copthorne Effingham's 122 spacious rooms. Standard rooms come with either twin or double Hypnos beds as well as chairs, a work desk, TV and double glazed windows to keep out any unwanted noise. There are superior room (great for families) and club room (ideal if you want to have a VIP treat) options too.
Rooms come with: WiFi (£5.00 for a day), Hypnos bed, a flat screen TV, tea and coffee maker, hairdryer, phone and room service.
If you want to get any last minute energy out before going to sleep in your comfy room, there's a small gym (and it's free!), a nine hole golf course (£11.00 per person) and tennis courts (£10.00).
Check-In: from 2.00pm. Check-out: by 12.00pm
Dining
There is plenty of choice when it comes to eating at the Copthorne Effingham. Enjoy a main meal at the splendid Terrace Restaurant with its interesting range of British and Mediterranean cuisine. This restaurant also has two RAC Dining Awards and is famed for its friendly and highly professional service. A children's menu is also available upon request too.
For breakfast, there's a hearty range of both cooked and continental options, from doughnuts, pastries and cereals to bacon, sausages, baked beans and eggs - perfect to get you ready and raring for travelling. Book in advance with us to save £3.00 per person. Kids under 5 also eat free too! Breakfast is served 6.30am - 10.00am during the week, and from 7.00am - 11.00am at the weekend.
There are two bars at the hotel, the Lounge Bar and the Sports Bar. The Lounge Bar has a traditional aesthetic and a relaxed atmosphere with comfy armchairs and an impressive drinks menu. The Sports Bar does exactly as what you'd expect to: there are lots of TVs for you to enjoy sport in front of and lots of draught beers and lagers available.
Accessibility
There are Blue Badge bays outside the entrance to the hotel as well as one accessible room with a shower over the bath. Please contact the Copthorne Effingham Hotel on 01342 714994 for more information.
Summary of the Copthorne Effingham Hotel Gatwick:
A historic 19th century 4* hotel nestled in 40 acres of parkland that even comes with its own 9 hole golf course. This exquisite hotel is only 15 minutes from Gatwick Airport.
Pros
Cons

✓

Tranquil countryside surroundings

✗

Transfers cost £5.50 via the shuttle bus to Gatwick and are £13.00 on the way back via taxi (the shuttle doesn't run back to the hotel)

✓

9 hole golf course, tennis courts and gym

✗

WiFi is £5.00 for 24 hours